THE SILVER JUBILEE OF RELIGIOUS PROFESSION
OF SR.EUGINE NIRMALA AND SR.STELLA CHINNAPPA
15th August2012, the feast of our Lady Assumption, was a day of remembering, rejoicing, renewing and celebrating the significant decision made 25 years ago by Sr.Eugine Nirmala SAC and Sr. Stella Chinnappa SAC to say "Thee alone will I love, Thee alone will I serve, I am totally yours."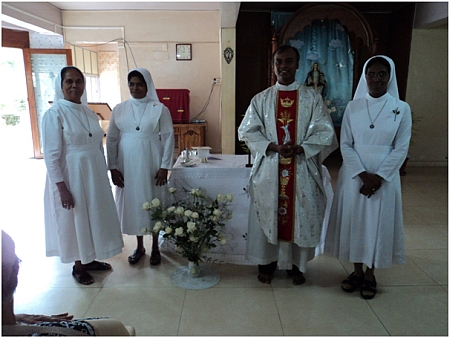 Jubilarians with Sr. Clara Xavier, the Provincial Superior and Fr. Anto Vijayan
The day began with an Holy Hour at Pallotti Cottage, praising and thanking God for the gift of Sr.Eugine and Sr.Stella. It was indeed a glittering occasion at Pallotti Cottage and Nishkalanka Seva Home, when the sisters, Senior Citizens and the staff of NSH joined the Jubilarians during the Eucharistic celebration in NSH at 9am, to render praise and Thanks to the Good Lord, firstly for the gift of religious vocation of the two Jubilarians and secondly for the abundant blessings He has given so generously to the sisters to work joyously, courageously and fruitfully In His vineyard.
We were extremely glad and priviliged to have with us on this momentous occasion, Sr.Clara Xavier SAC, the Provincial Superior of The Mother of Divine Love Province. Fr.Anto Vijayan SAC, the parish Priest of Rasayani parish, shared the experiences he has of the two sisters and thanked them for their support and help they render to him and the Parish. The Eucharistic celebration was made more meaningful with the melodious choir by the sisters.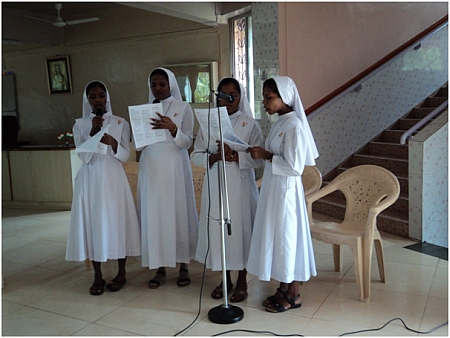 Melodious Choir
After the Holy Eucharist, with great joy all present, congratulated the jubilarians with a silver jubilee song as they cut the jubilee cake.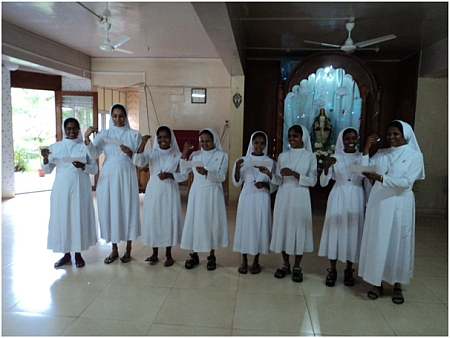 Sisters wishing the Jubilarians with silver bells
A thanksgiving Holy mass was also offered in the parish at 10.30 am. After the communion Sr.Clara Xavier SAC congratulated the jubilarians and delivered words of appreciation for their wonderful service and felicitated them with a shawl. The parishioners also appreciated them and expressed it by presenting them a shawl. Snacks and tea was served for all after the Holy Mass.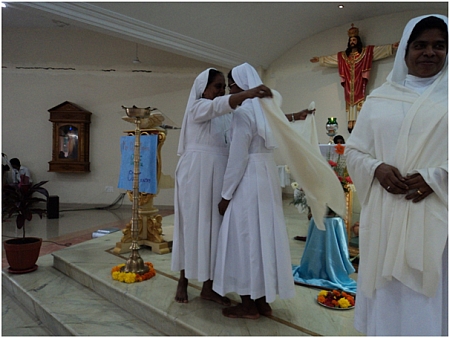 Sr. Clara felicitating Sr. Stella
The Religious sisters from the parish and the Parish Priest joined us in sharing the sumptuous festal meal. The festive atmosphere continued throughout the day with all tingling with excitement and music in the air and reached its culmination with thrilling entertainment programme by the sisters and the staff of NSH, which was studded with dances, songs and skits.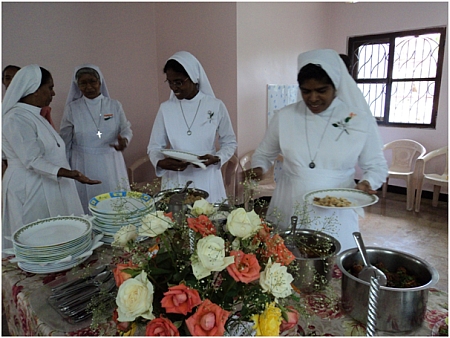 Jubilarians and guests enjoying the delicious food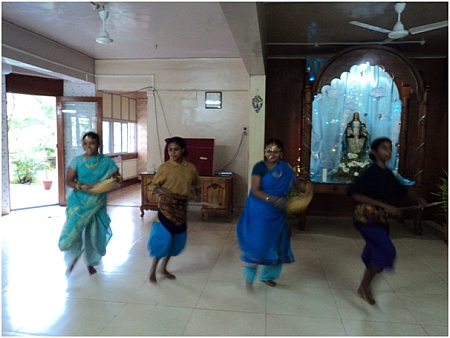 Fisherfolk dance of Maharastra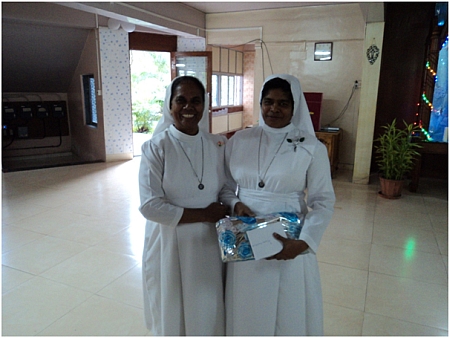 Sr. Clara presenting a gift to Sr. Eugine
Sr. Clara presenting a gift for Sr. Stella
Sr.Clara Xavier once again in the presence of the Senior citizens expressed her gratitude to the Jubilarians and extended them her best wishes. The Jubilarians too expressed their gratitude to all for making this day memorable one for them and shared some of their experiences during these 25years of religious profession. The programme came to an end with a hymn to Mother Mary.
On this day we also celebrated the birthday of Sr.Amutha and 65th anniversary of our nation's freedom from foreign rule.
It was indeed a rip roaring celebration.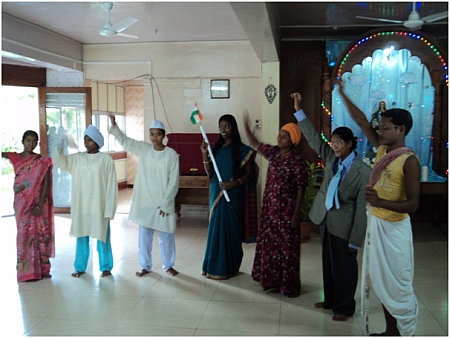 Paying homage to our country and the freedom fighters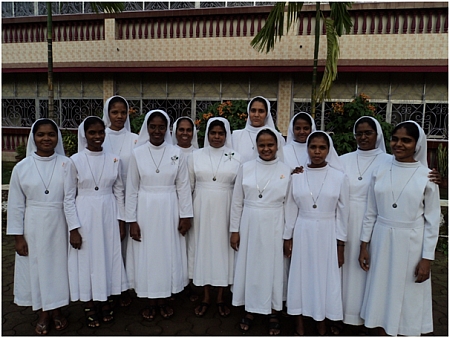 Community members with Sr. Clara