The Indian Province rejoiced with gratitude to God. There were two special events in the Province. Firstly two Sisters namely Sr. Antonieta Rodriguese and Sr. Bimla Barla celebrated 25 years of their religious profession. Secondly the Indian Province and the South African Province came together and the three sisters Sr. Anupama Toppo, Sr. Anusha Gangolu and Sr. Promila Kiro moved by the Spirit of God, proposed to follow Christ more nearly, to give themselves to God totally, made their final commitment on 24th May 2022, in Bangalore India. Sr. Promila from India belonging to South African Province joined the Indian Province to make her final profession. The theme for the celebration was "I have called you by name you are mine". The celebration was held in Vidya Deepti Pallotti Study Hall.
Silver jubilarians renewing their vows. Photo: Pallottine Missionary Sisters, India
The Holy Mass was presided over by Rt. Rev. Peter Machado, the Archbishop of Bangalore. In his homily he congratulated the Sisters and gave the message that we do not celebrate our commitment to God but we celebrate God's faithfulness to us. He also emphasized that we have not chosen to be religious but God has chosen us so neither we need to choose our communities. It is He who will appoint through the authorities and encouraged them to put Jesus in the center of their life.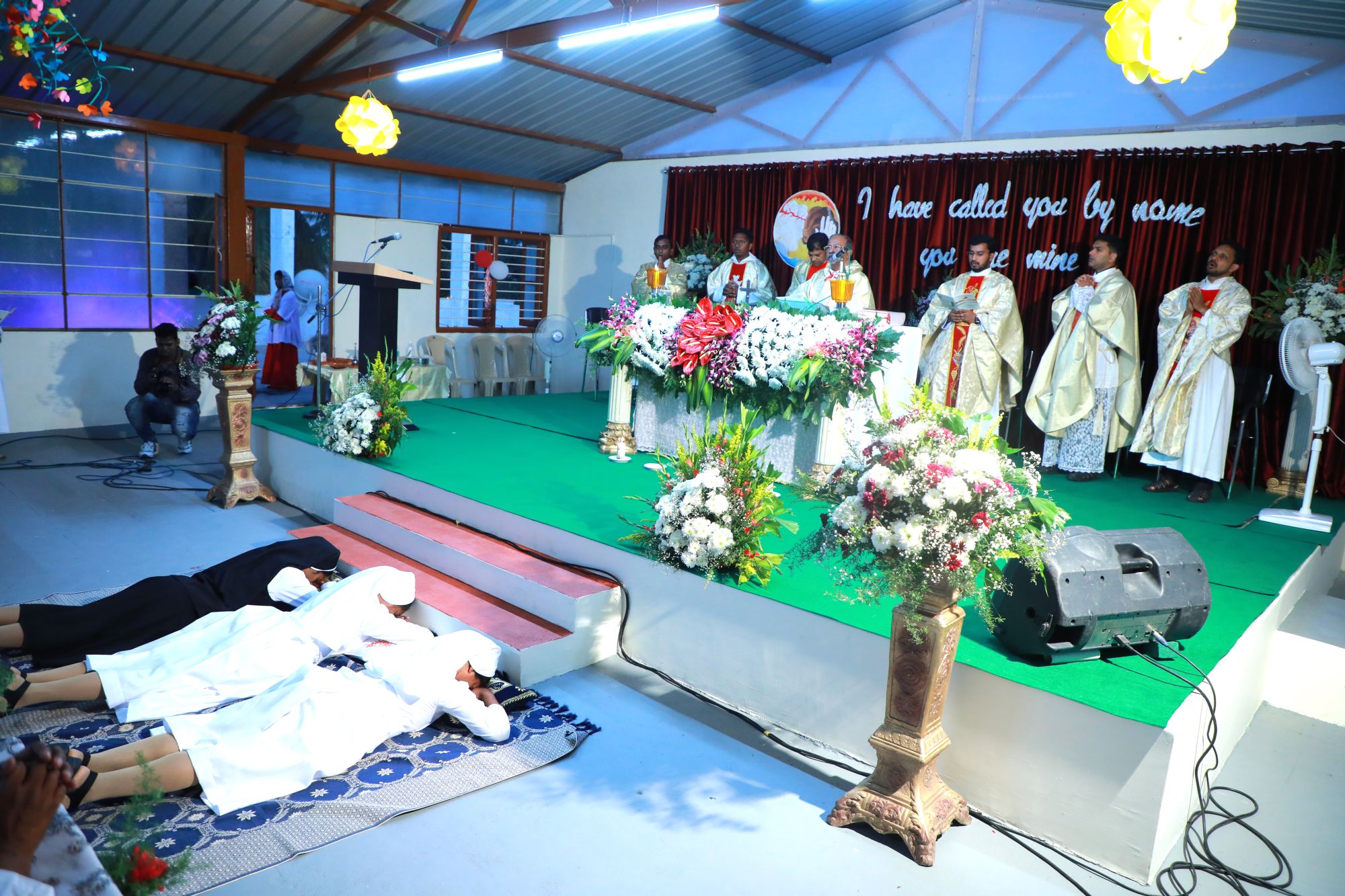 photo: Pallottine Missionary Sisters, India
With a heart full of gratitude to God, Sr. Helen Lourdusamy, Provincial Superior of Mother of Divine Love Province India received the Final Vows of Sr. Anupama Toppo and Sr. Anusha Gangolu, whereas Sr. Prabha Varghese, Provincial Superior of South African Province received the Final Vows of Sr. Promila Kiro, in the presence of Pallottine Fathers and Sisters of the Catholic Apostolate, lay UAC members, other Religious Sisters, parents and relatives of our sisters.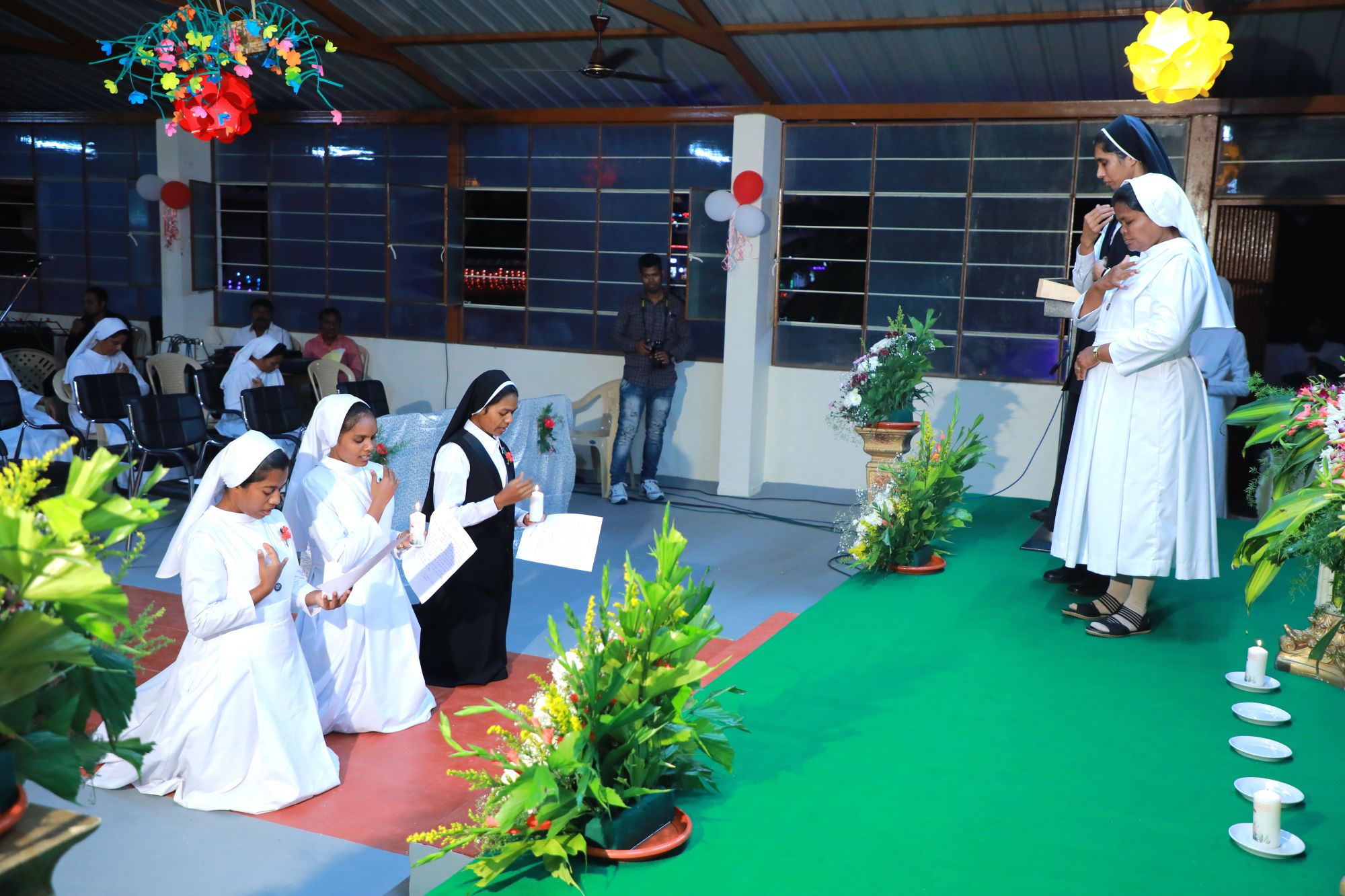 photo: Pallottine Missionary Sisters, India
With joy the Silver Jubilarian and Newly Professed Sisters thanked the Lord and the Congregation for accompanying them until today. The Mother of Divine Love Province is grateful to God for the gift of these sisters for their service in the Church and Congregation. May God bless them abundantly so that they may always live in the awareness that it is God who has called them by name and they totally belong to Him. Thus, they may get strengthened in their vocation and continue their journey of life with the Pallottine Missionary Sisters.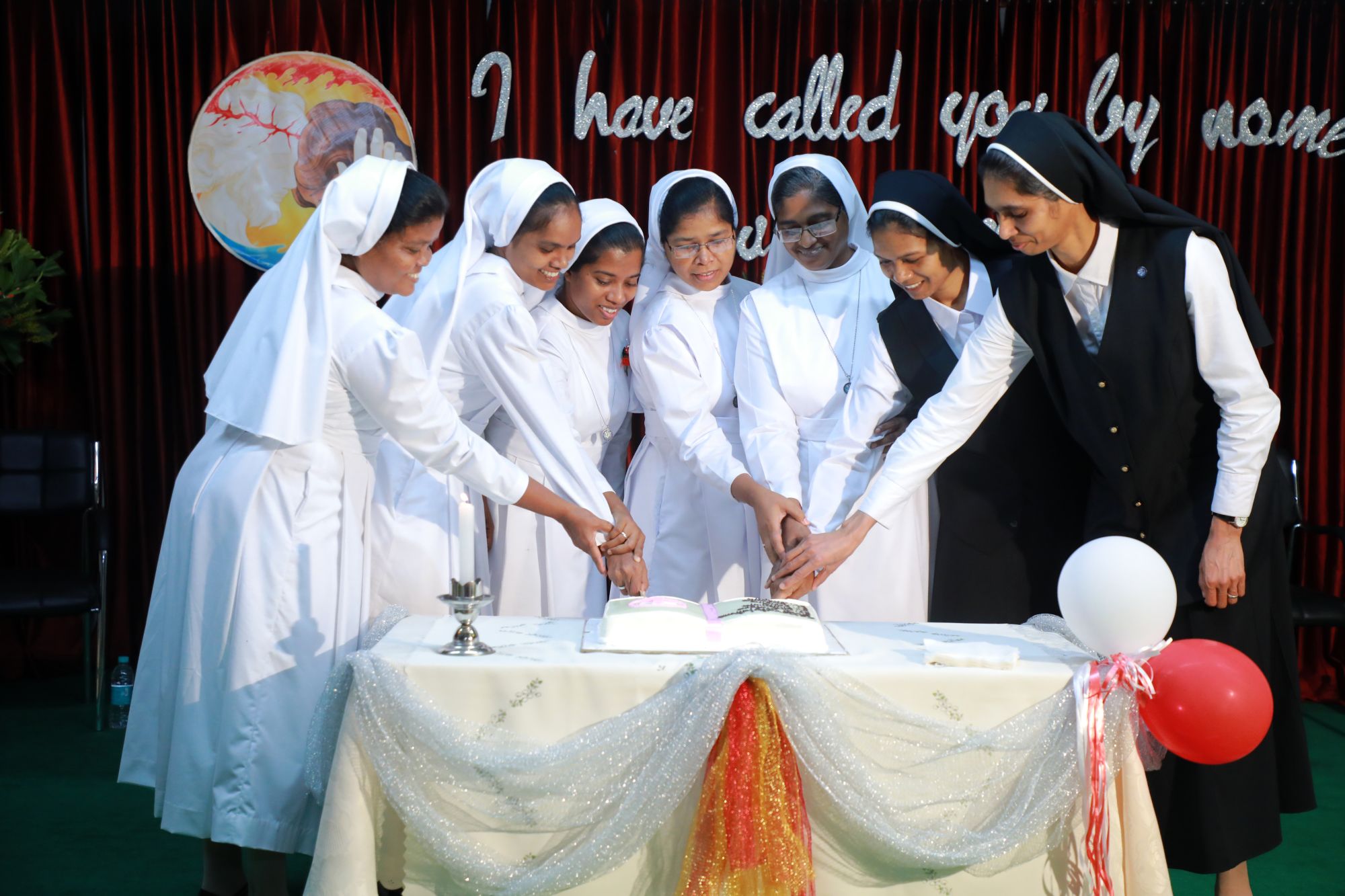 Pallottine Missionary Sisters of the Indian and of the South African Province celebrating together.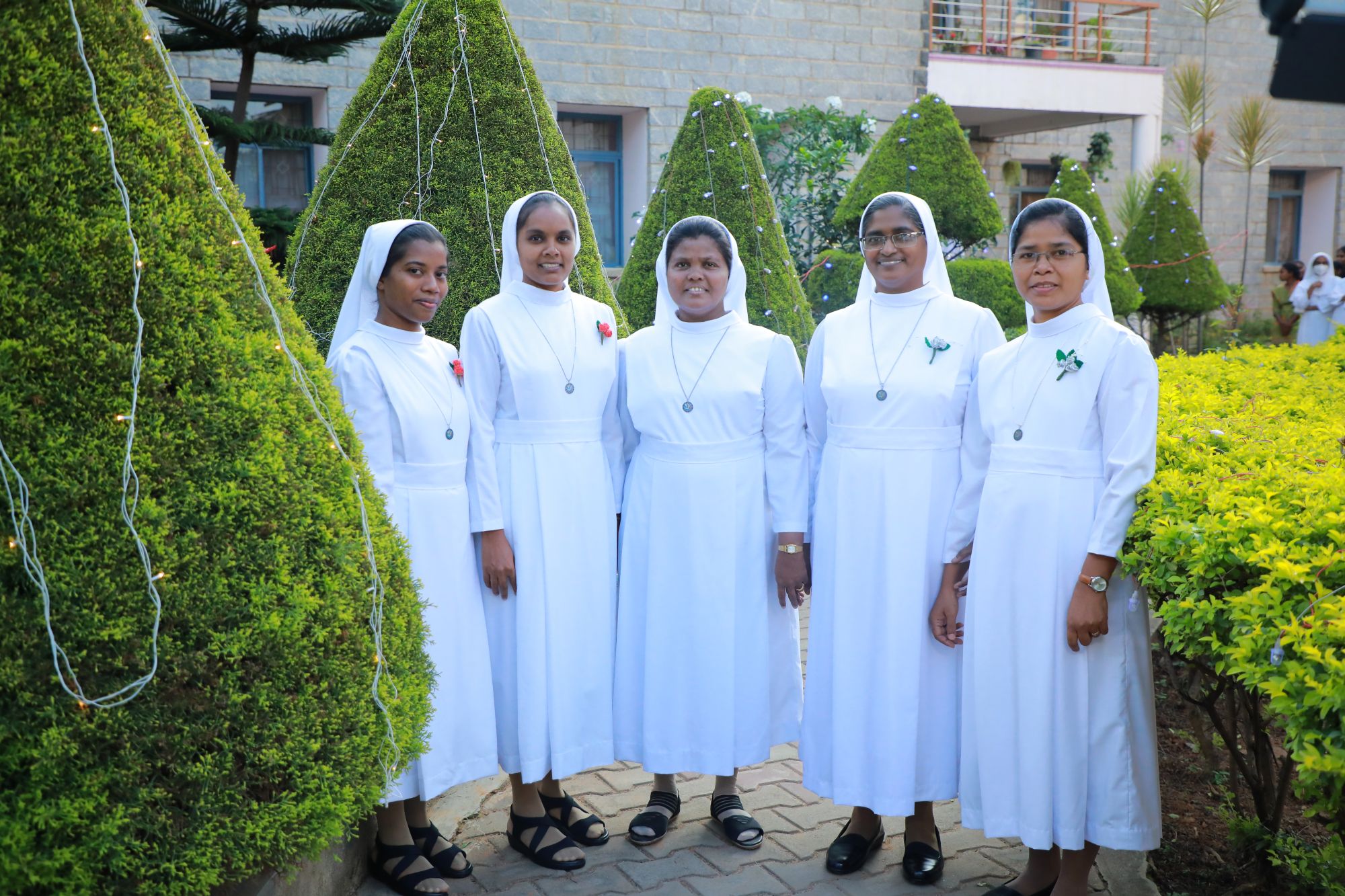 Sr. Helen with two final professed Sisters and two Jubilarians.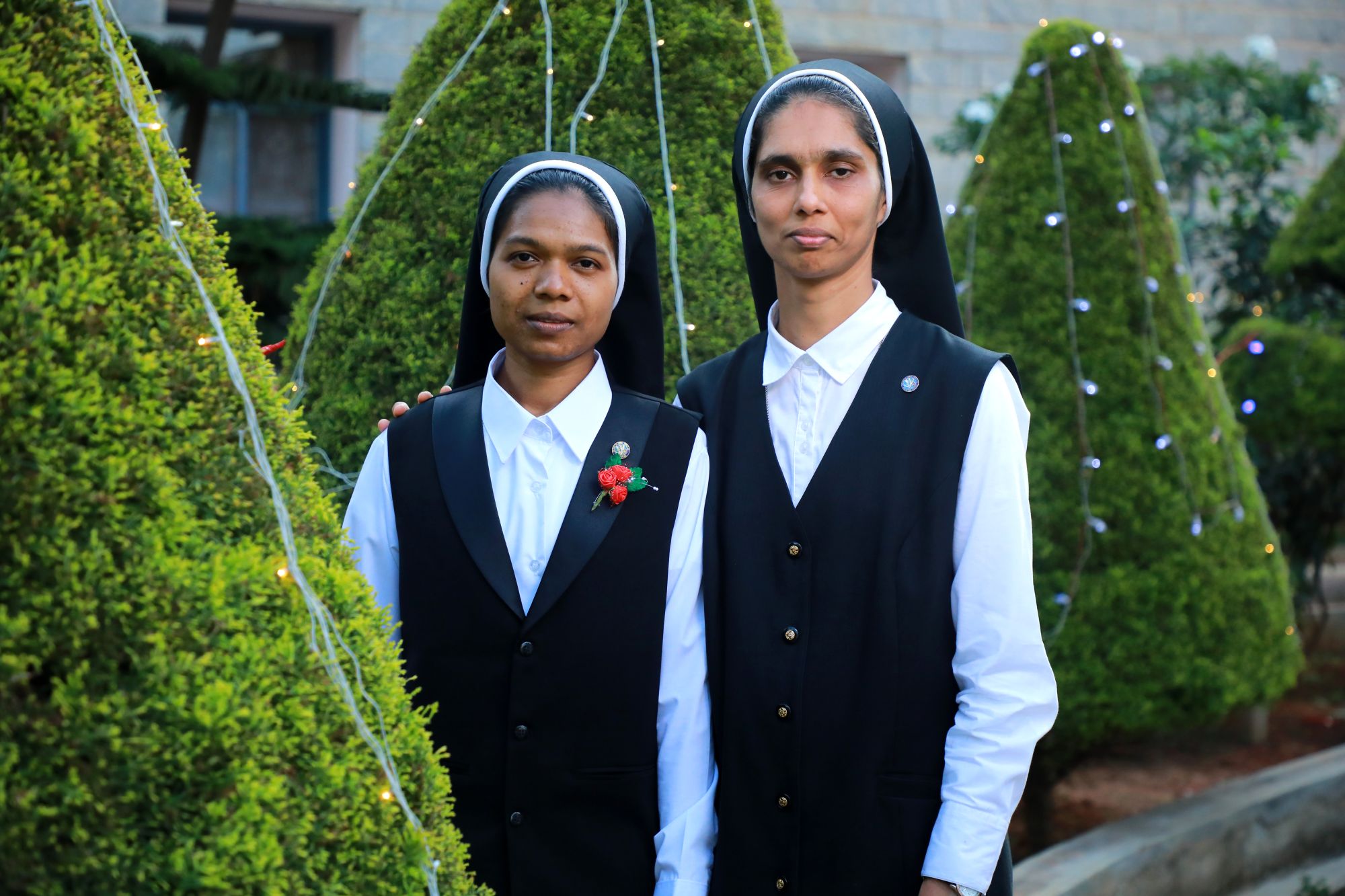 Sr. Prabha with the final professed Sister. – Three photos: Pallottine Missionary Sisters, India