From 10th to 21st June 2006 a group of Poles from Yekaterinburg stayed in Warsaw. The purpose of the visit was an advanced Polish language course combined with lectures: on history, art and Polish culture and sightseeing of the capital and surrounding areas. Their teacher Sr. Mirosława Włodarczyk SAC was the initiator of the whole excursion.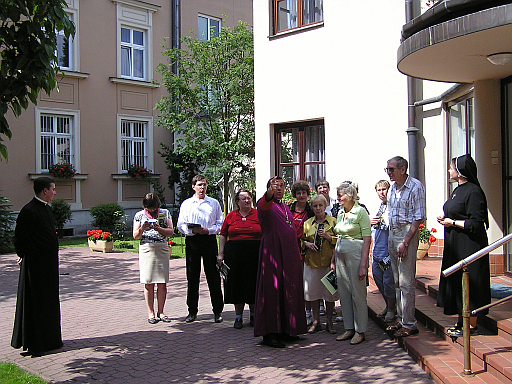 Bishop Tadeusz Płoski with the students in the courtyard of the Military Ordinary of the Polish Army.
Almost every day, after the morning classes, they walked the streets of the capital, to get to know places more specific to the history and to "breathe" the homeland.
– For me it's first visit to Poland – says Dmitry Mezencew. – So far I was most impressed by the Royal Castle and the Corpus Christi procession.
– My parents lived in areas which were incorporated into Russia after World War II – says Nel. – After the war they came to the Urals. I was born in the middle of taiga. In Russia I stayed on forever, but the roots are not forgotten. My heart is in Poland.
– I loved the Ordinariate Field, where Bishop Tadeusz Płoski invited us. I sang with the bishop, "Crazy fairs" and songs of Niemen – confides Połuektow Nicholas, who alone in the group does not have Polish roots. In the 80s he became fascinated by Polish music. He learned Polish language as a student himself, because wanted to know what the rockemen over the Vistula sung about.
Followed: "Życie Warszawy", 17-18.06.06 and ""Gość Niedzielny", 25.06.06.
______________________
Poles deported to Siberia
It is estimated that in Western Siberia there are more than 60. thousand people with Polish roots. How many Poles live across Siberia and Russia? It is not known. No one has conducted such an inventory. During tsarist times there have been about 500 thousand. Poles, and from January 1940 to June 1941, the Bolsheviks deported about 1.5 million inhabitants of the eastern Poland to Russia.