The General Coordination Council (GCC) of the Union of Catholic Apostolate met from 2013, 10 to 16 May in Rome. The meeting took place at the international formation centre of the Union in Via Giuseppe Ferrari, close to the Church of the Queen of the Apostles.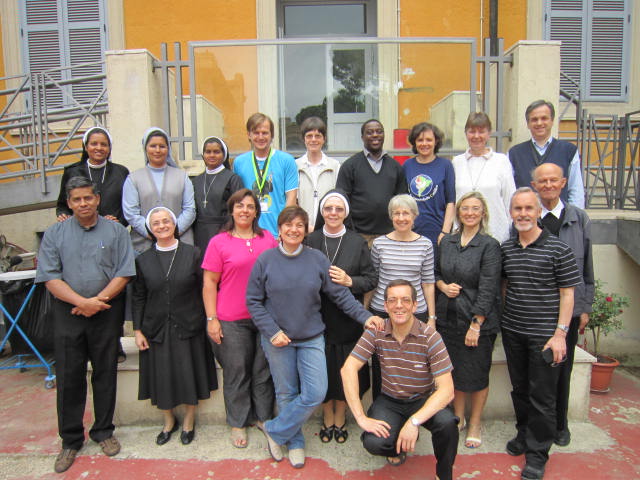 The Council is made up of the three General Superiors of the Pallottine core communities – the Society with Fathers and Brothers, and the two Sisters' Congregations, as well as of ten elected members from all around the world. Besides these elected members, also three substitutes are elected to fill in if someone of the elected members cannot come. For the first time all the three substitutes had to be present since three members had to beg off, two of them ad very short notice for reasons of health. Luckily all three substitutes, living in Rome, could make it. And so there were thirteen members of the council, the secretaries, the translators, and the juridical advisor – altogether 19 persons.
The meeting took place in a familiar atmosphere during these days of the Pentecost Novena. While listening to God and to one another, all tried to discern the necessities for the Union today and for this coordinating body. Although there was a full agenda, all were willing not just to rush through but to take on the responsibility.
Some of the topics on the agenda may show the variety of questions that needed to be dealt with. There were the reports of the President, the General Secretary, and the General Treasurer. There was an afternoon session with the three General Councils of the core communities. There were reflections on the role and functioning of the GCC itself and of its members between the annual meetings, on the Pallottine Charism at the service of the New Evangelisation, and on the nature and role of the Local Coordination Councils. There was time to give first or second thoughts to meetings of different Pallottine realities yet to come – like that of the international formation commission and that of the national formation promoters, the meeting of lay communities within the UAC, and the next General Congress which will take place in July 2015. There were things that had to be decided on or approved – like regulations, as well as Presidents and Vice-presidents of newly established National Coordination Councils, nominations of National Formation Promoters, and some more appendices to the General Statutes.
Though the list of action points that each and everyone took home grew longer and longer each day, there was a spirit of joy in the willingness to collaborate with God and one another in this shared responsibility for the Union of Catholic Apostolate.
By Sr. Adelheid Scheloske, SAC