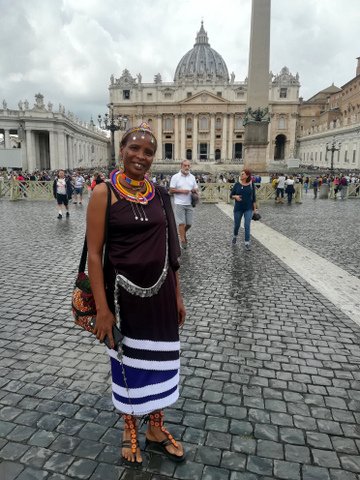 Prisca Kyemi, although in a Maasai dress she is not a Maasai. She is a young talented woman, of the Nyaturu tribe from Singida, Tanzania in East Africa, who was dreaming to see Rome and St. Peter's Basilica.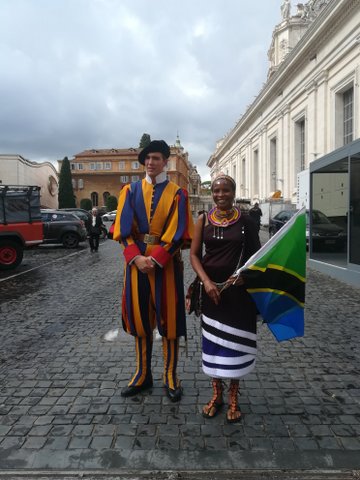 For many years after Prisca began working in Morogoro, she lived among the Maasai, learned their language, traditions and how to make Maasai ornaments. She was invited to Dakawa Parish in Morogoro Diocese, by Fr. Drazan Klapez, a missionary from Croatia, to help in pastoral work at the parish. Soon she became his right hand and good collaborator in the Parish and the Rectory. Prisca is very much involved with the parish apostolate with Maasai women and is a strong supporter of the Pallottine Sisters who have just opened a Community there.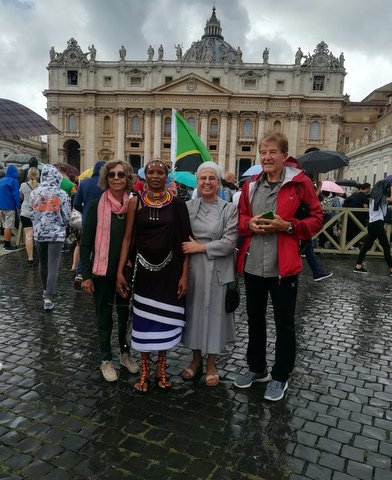 Thanks to Mr. and Mrs. Debiasi, Italian benefactors from Trento, Prisca's dream came true and will never be forgotten. She walked with happiness on the stones of St. Peter's Square, was overwhelmed by the beauty and greatness of St. Peter's Basilica, touched the tomb of the first Apostle and received the blessing of Pope Francis during the Angelus. Our Pallottine Sisters from the Procura General in Rome were happy to host these special guests. With this beautiful experience we can repeat after Pope Francis, who says: God is the God of surprises, God is always new!