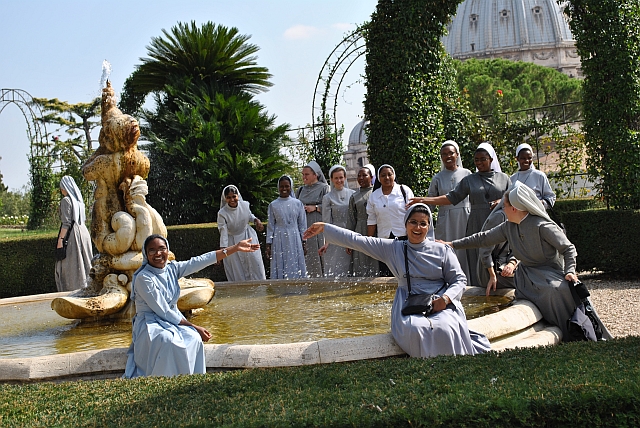 The General Administration organized an international formation meeting for the young final professed sisters and those who are preparing for the final vows. This event took place from 14th to 30th September 2013 at the Generalate in Rome under the guidance of Sr. Josephine D'Souza. There were 15 sisters who came from Tanzania, Poland, India, White Russia, Belize and Rwanda. The inaugural Mass was held at SS. Salvatore in Onda at the altar of St. Vincent Pallotti, our Founder and was presided by General Councillor, Fr. François Harelimana, SAC.
After the Mass we went to St. Peter's Square for the Angelus Domini. It was raining very much, but we could sense the rain of blessings that God had prepared for our visit in Rome. In the following days we shared the experiences of our consecrated life, apostolate, and community life. The following topics were presented during the two weeks:
The Eucharistic Life of St. Vincent Pallotti – Sr. Stella Holisz, General Councillor
The Consecrated Life in the Spirit of St. Vincent Pallotti – Sr. Josephina D' Souza, General Councillor
The Importance of Word of God in Consecrated Life – Sr. Monika Szupryt, Provincial Councillor from Poland
Pallotti's Proposals – How to Revive Faith and Rekindle Charity – Sr. Bożena Olszewska, General Councillor
The History of Pallottine Missionary Sisters – Sr. Izabela Świerad, General Superior
Following Jesus Christ in Consecrated Life according to Pallotti – Fr. Jan Kupka, SAC, Director of the Pallotti Institute in Rome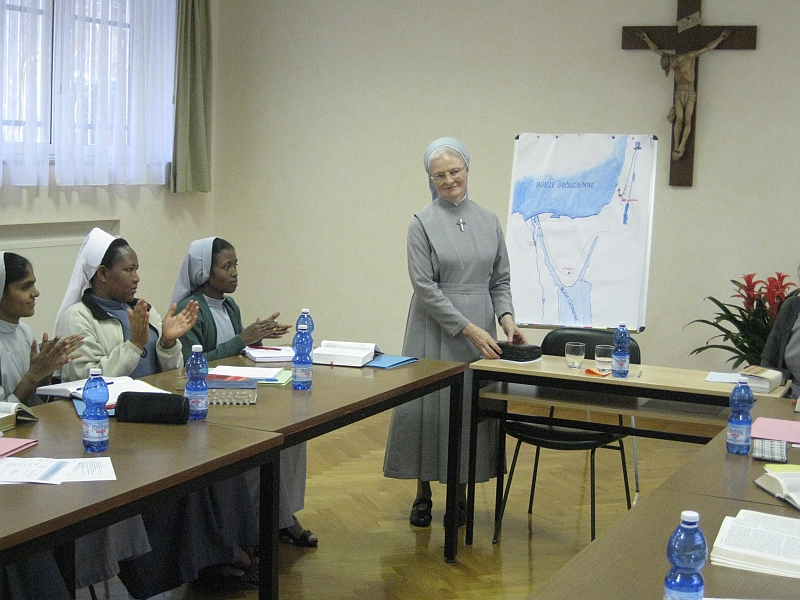 After each talk we were divided into discussion groups and plenary sessions. During the program we also had an opportunity to walk in the "Foot Steps of Pallotti" that included Pia Casa di Caritá and a meeting with the Pallottine Roman Sisters, visits to Frascati, Camaldoli, Assisi, and participation in a General Audience with the Pope Francis. Wednesday's participation in the Holy Mass at SS. Salvatore in Onda in the spirit of the UNION helped us to strengthen our identity in the Pallottine Family and enhanced our Pallottine Spirituality.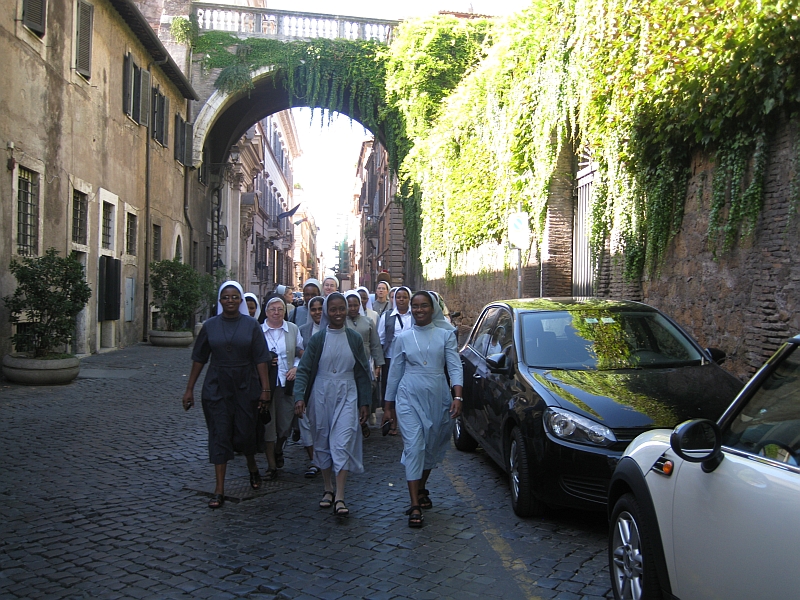 One of the surprises was an unexpected visit of Archbishop Henryk Hoser, SAC of Warszawa-Praga, who stayed with us for Rosary and supper. At the end the Archbishop addressed a few words of encouragement and gave us His blessing.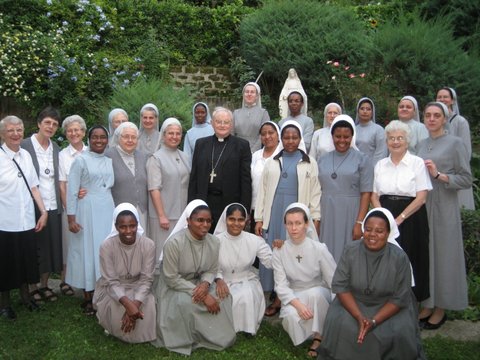 Our evening cultural performance brought us closer to each other beyond our languages, nationalities, cultures and colours. We felt the unity in diversity, and we were able to experience the beauty of our International Community. Our bond to each other was intensified with rich sharing of our thoughts, views and opinions.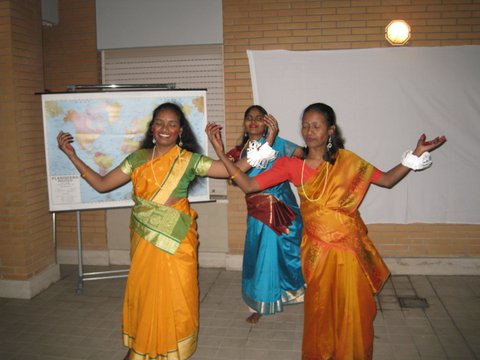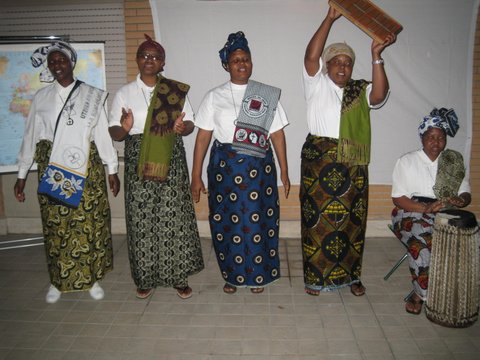 At the concluding session of the workshop, the participants decided to take concrete steps to live an authentic and radical Consecrated Life, which will lead us to witness Christ to the World. In her closing message Sr. Izabela Świerad wished that each one of us would return home with transformed hearts that will enable us to live a full life of dedication, sacrifice, faith, fidelity, courage, love and missionary zeal.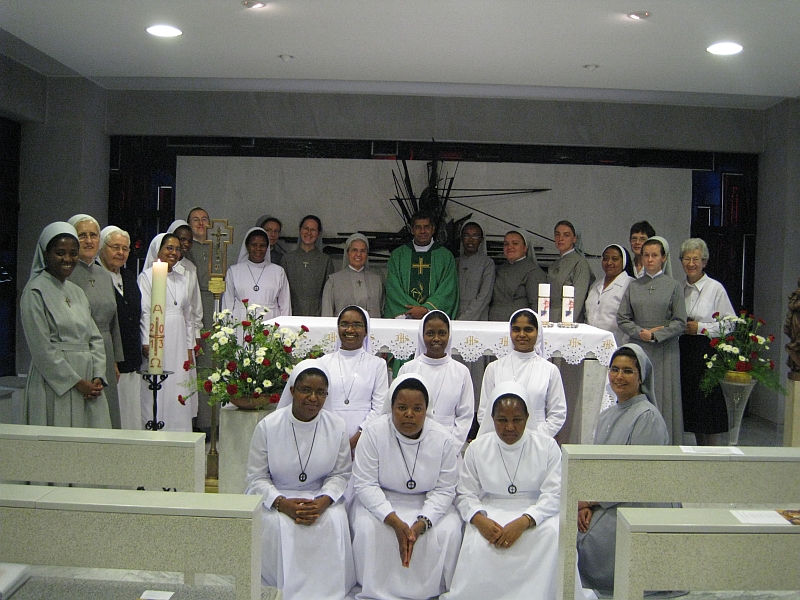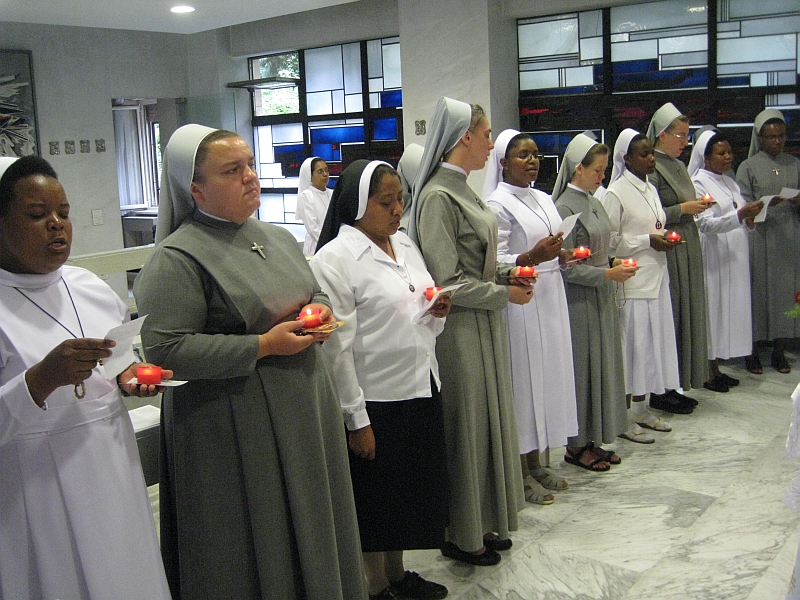 The closing Mass was presided over by Fr. Jacob Nampudakam, SAC, Rector General and was followed by a Missioning from Sr. Izabela Świerad, our General Superior.
Sr. Agatha Hulak, SAC and Sr. Kinga Skórska, SAC