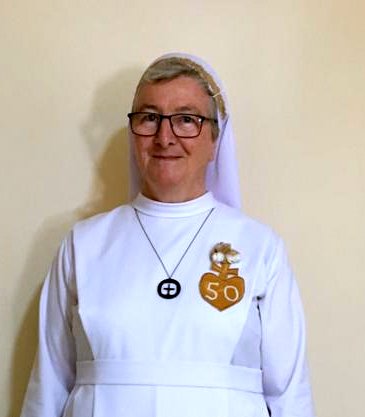 June 6th 2019 was a joyful day for the Pallottine Missionary Sisters in Tanzania as Sr. Mary McNulty, our first missionary in Tanzania and former Provincial Superior, celebrated her Golden Jubilee of Religious Profession. The thanksgiving Mass was celebrated in Christ the King Parish Church, Siuyu, and was presided over by Rev. Edward Mapunda, Bishop of Singida together with many concelebrants.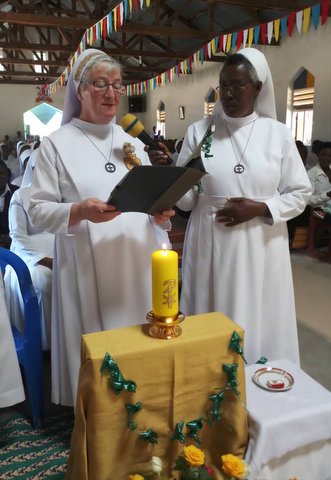 In his homily the Bishop expressed his warm gratitude to Sr. Mary for her apostolate and generous spirit with which she touched many people during her twenty-eight years in Tanzania, twenty-five of which were spent in Siuyu and fifteen of these as Headmistress of Pallotti Secondary School. Sr. Mary has helped many girls, especially from the rural areas, to get a good education which has enabled them to have better lives. Two of the diocesan priests were encouraged and supported by her on their journey to priesthood. People of Singida will never forget Sr. Mary – the Mother of Siuyu. Later, the Bishop presented a framed Certificate of Appreciation to Sr. Mary to acknowledge her contribution to the development of spiritual and educational ministry in the Diocese.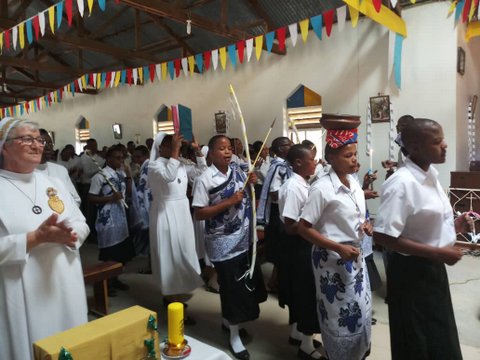 The Holy Mass was accompanied by the parish choir who sang in joyful praises. Religious from different congregations, present and former students of Pallotti Secondary School, friends and parishioners participated in the celebration. After the Holy Mass all the guests were invited for lunch which was followed by entertainment provided by the Sisters and various parish groups. Sr. Mary received many gifts with traditional gestures.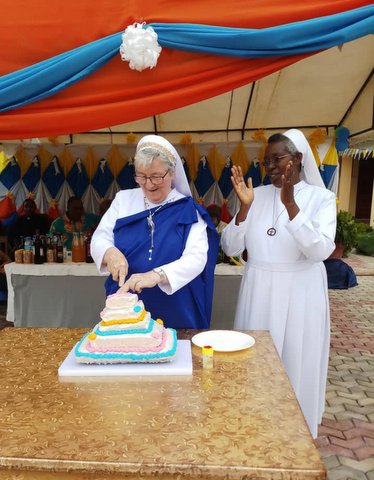 On the following day the celebration continued in Makiungu where our sisters started a new community and work in a hospital, in collaboration with the Medical Missionaries of Mary. Makiungu parish is run by the Pallottine Fathers and it is here that the Pallottine Sisters had stayed for four years after arriving from England to begin their mission in 1990. Pallottine priests, seminarians, religious sisters of MMMS and the Holy Spirit Congregation joined the celebration. It was a happy evening with the sharing of many memories and significant events. Also the house of the Sisters was officially blessed.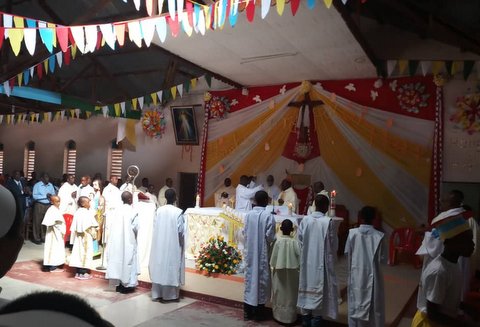 We thank God for the gift of Sr. Mary in our congregation and for all the good work she has done, especially in education and in promoting vocations. She has helped raise the standard of women and give dignity to so many local people in Tanzania. Through her vision and mission she made many things happen. We, the Pallottine Sisters in Tanzania, will continue to support her with our love and prayers as she works in her new apostolate with our small community of elderly Sisters in England.
Sr. Redempta P. Mallya SAC