On July 7th our guest was Fr. Nicola Galucci SAC – Provincial Superior of the Italian Province of the Pallotine Fathers and Brothers. During the homily he reminded us of God's endless love. God loves us unconditionally, His love is full of mercy, and always ready to forgive. The Lord is present in the history of each man and each day we need to seek Him anew.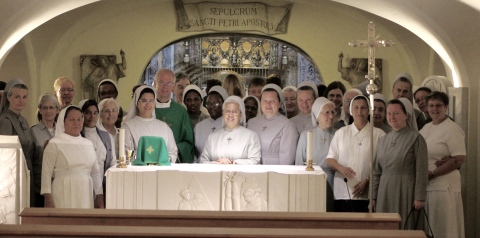 July 8th
Peter – Eni: Peter is here
This day started with a festive celebration in the vault of St. Peter's Basilica, near the grave of the first among all the Apostles. The Eucharist for the intention of the newly elected General Superior and the General Council was celebrated by Fr. Martin Manus – General Counsel, SAC.
Jesus prepares the Apostles for their mission in a very realistic sense. He gives them power over evil spirits and power of healing. He knows that they are ready. He sends them from town to town, "like sheep among wolves". He bestows on them the Holy Spirit who gives them courage of a lion.
Prudence and simplicity – these are the key virtues of each apostle, as Fr. Martin reminded us. Prudence means something more than just common sense; it is an ability to make decisions for the common good. It is a reminder of all other virtues. Simplicity is the opposite of unnecessary complicatedness; it is a life which is honest, straightforward and uncomplicated.
Praying together, meditating on the Word of God and breaking Bread in the place commemorizing St. Peter was for us an experience of gratitude, joy and peace. Sentire cum Ecclesia in its old tradition of loving Christ, faith, being send and being for the others.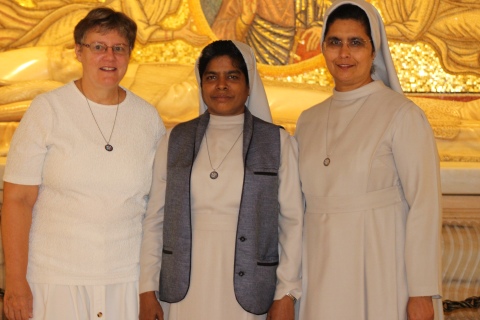 From 9 to 12 July we were working on the recommendations. The Word of God guided us each day. The Eucharists were celebrated by Fr. Francis Harelimana – General Councilor, SAC; Fr. Peter Paul Saldhana – Professor from University Urbaniana, and Fr. Martin Manus – General Councilor, SAC. They reminded us that we need to accept and discern the signs of time. To be the witnesses of peace and the Word. To remain in an attitude of converted heart and not get accustomed to the signs of God in order to remember about the aim, vivid faith and to change hearts always willing to be reborn for the Lord.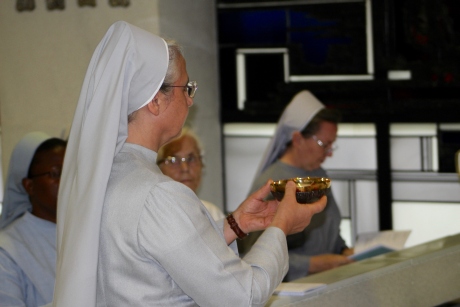 On July 12th, during a solemn Eucharist, we celebrated a Jubilee of 25 years of final vows of Sr. Clara Teul from Belize. Sister serves as a Provincial Councilor and is a headmistress of our Pallottine high school. During supper we were celebrating an evening full of gratitude, thanks to our Sisters from the Procura.