Sr. Hanna Kiedrowska SAC A Pallottine Missionary Sister of the Polish Province. Since 2013 she has been rendering her service to the Generalate – Procura as a cook. In the year 2015 which was dedicated by Pope Francis as the Year of Mercy, Sr. Hanna responding generously, extended her ministry to the work of mercy for the poor, where with whole her heart she is serving today.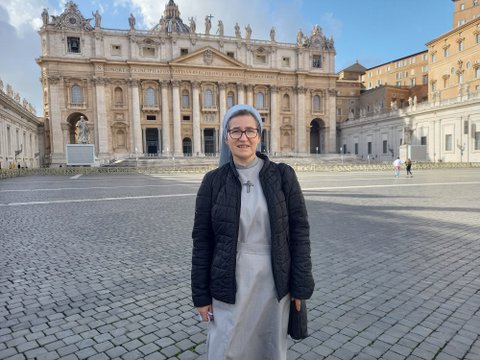 Here she shares her apostolic experience.
Following the example of our Founder, St. Vincent Pallotti, I undertake my ministry for the poor, destitute and marginalized. Like Pallotti, I want to look at them with the eyes of love and see Christ in them. However I have always believed the service to the poor is most beautiful and rewarding yet demands a lot of sacrifices.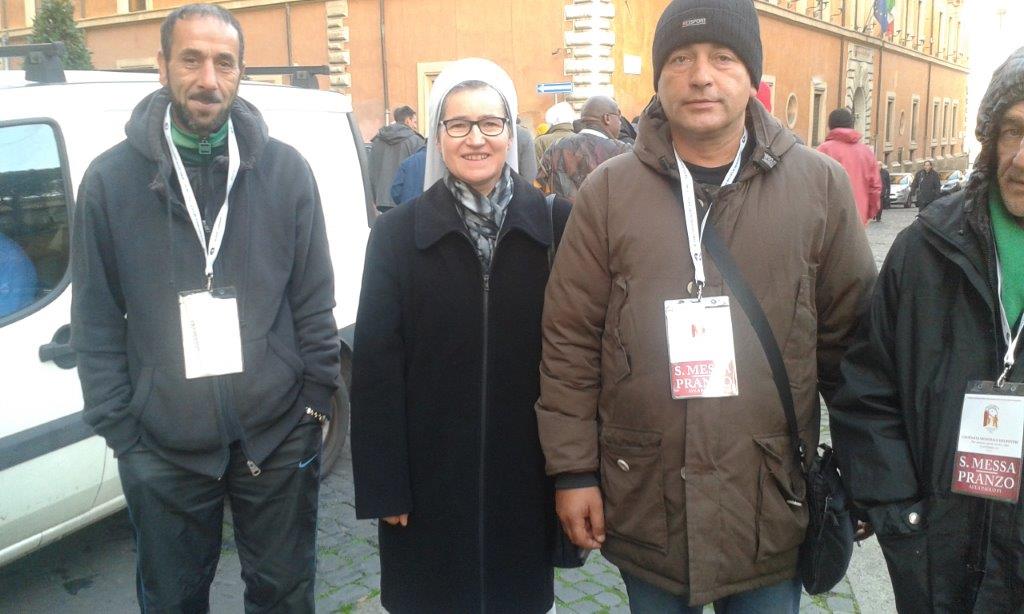 In the beginning of the pandemic, the life of the poor and the homeless was very difficult as they were left all alone on the streets of Rome with nothing. Nobody came forward to render a help. All the coffee bars, shops and restaurants were closed. According to the Lockdown measures, all were asked to stay at home and maintain distance from each other. However, with the Holy Father's pastoral blessing, and in collaboration with Cardinal Konrad Krajewski, Almoner of Papal Charities, I reached out to the poor and the homeless in the vicinity of the Vatican. It always touched me, especially while delivering meals to them with Cardinal Konrad Krajewski and Fr. Franciszek (Orionist); we could hear repeatedly these words: "I am hungry".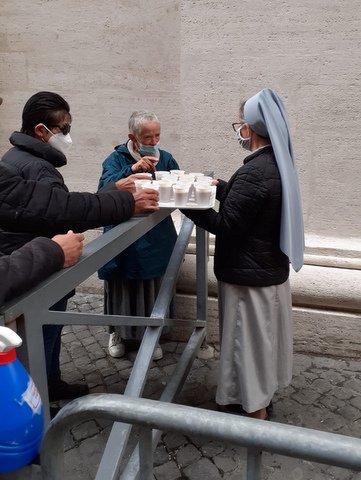 Having a special pass from the Vatican, I was able to participate every day in the Holy Mass celebrated by Cardinal Krajewski which refilled me with strength. Every Tuesday I give service in the Vatican showers for the poor where we also distribute sandwiches and hot drinks. Every Monday and Thursday I go with the Cardinal and a small group of lay people volunteers to distribute the bags with food, masks and detergents to the poorest and homeless at the largest Railway Station in Rome. The whole group of volunteers always maintains the safety standards required by the Government.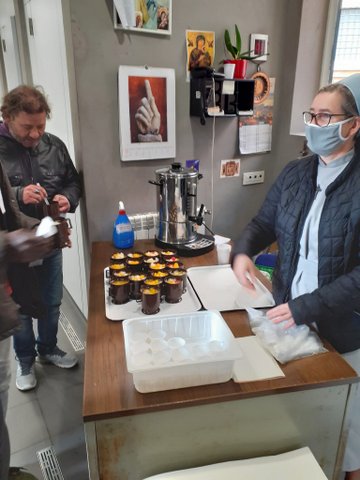 With this experience once again, in a more visible and touching way I experience God's presence with me and the power of His Providence. It is a true gift from God that I can overcome fear with courage and so I receive so much joy in serving the poor in this difficult situation. I feel very much supported with prayers, encouragement and involvement from my communities. By serving the poor, I want to praise God, who grants me strength and courage. I know that service to these abandoned and needy people requires a total dependent on God. I thank Him for all his blessings and protection for having enabled me to do this beautiful task entrusted by my superiors. I feel an inner joy and peace that I can live the charism of St. Pallotti that of encountering Christ in the poor and needy.
Sr. Hanna Kiedrowska SAC