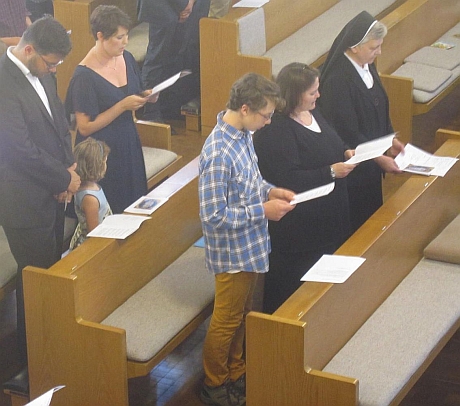 On Saturday, July 18th, 2015, the Pallottine Missionary Sisters in Germany celebrated together with Sr. Astrid Meinert her final profession. Pallottine Father Edward Fröhling celebrated holy Mass in the chapel which had been decorated by Sr. Ann with most beautiful flower arrangements. In his sermon Fr. Fröhling elaborated mainly on the text from the gospel (Matthew 17:1-5), which Sr. Astrid had chosen for the day and from which she had taken a sentence to caption the celebration, "This is my beloved Son, with whom I am well pleased; and listen to him". The cathedral choir of Limburg, of which Sr. Astrid is a member, enhanced the Eucharistic celebration with its singing, accompanied by the cathedral organist.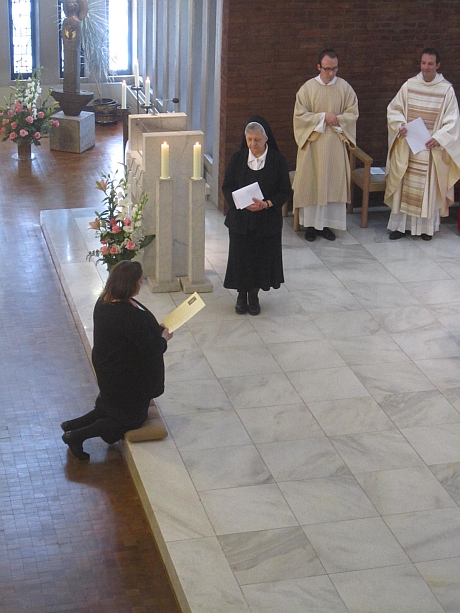 The profession was received by provincial superior Sr. Helga Weidemann. Then both, Sr. Astrid and Sr. Helga, sealed this step with their signatures in the profession book of the Congregation. Touching was the plea which Sr. Astrid afterwards addressed in a song to God: "Accept me, o Lord, as you have promised and I shall live. Let my trust not be dashed." Then Sr. Helga handed over to her young fellow sister a candle and a ring, both of which had been prior been blessed by Fr. Fröhling.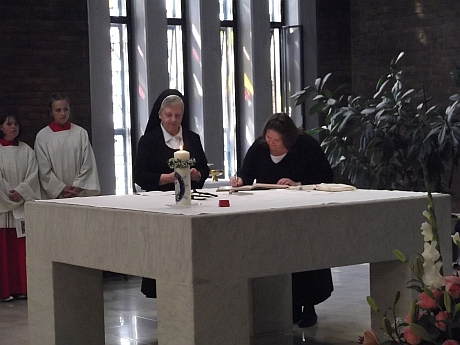 After the Eucharist and the congratulations, the celebration went on with lunch, over a cup of coffee and a piece cake. The day drew to an end with the vespers, during which Sr. Astrid surprised her fellow sisters with an address of thanksgiving, giving each one of them a personal word of thanks for concrete experiences during the last years.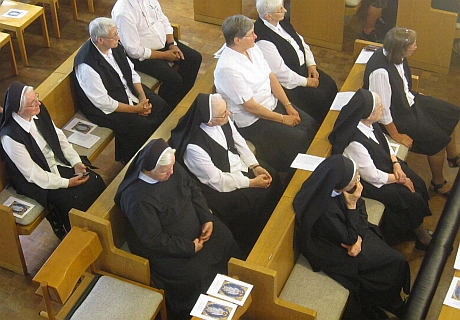 The celebration, which happened to be in the "year of consecrated life" proclaimed by Pope Francis, made the "joy of the gospel" palpable and alive to all who took part in it.