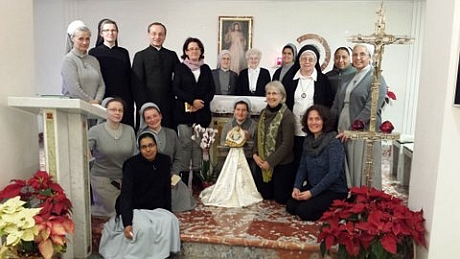 The Solemnity of the Epiphany, also known as the Feast of the Three Kings, was celebrate to commemorate the day on which Christ had been revealed to the people. This day was particularly important and dear to our Founder, St. Vincent Pallotti, who initiated the grand celebration of the Octave of the Epiphany in Rome. Each year the event gathered and united the faithful in different churches of the Eternal City, where they experienced various rites in a common worship of God, who was revealed to the world.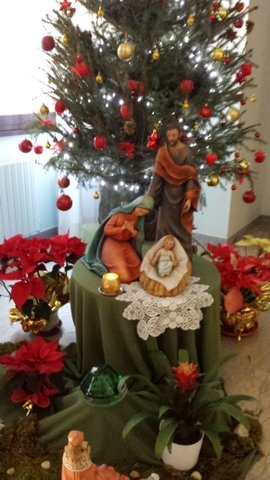 This year our communities in the Procura and in the General House met together to celebrate this beautiful day with the traditional Christmas carols and the blessing of our homes. Fr. Jaroslaw Rochowiak, a Salesian friend of our Sisters here in Rome, lead the common prayer in the chapel of the General House, blessed the incense, water and chalk, and then, followed by the Sisters, went about the entire home blessing every room. The exotic fragrance of the incense filled every corner of our home creating an atmosphere of great solemnity.
Another point of this celebration was a family dinner, to which we invited members of the Union of Catholic Apostolate from Rome, Germany, Poland and Australia, who had arrived a few days before UAC Central Assembly. Then, there was adoration of the Blessed Sacrament in the chapel of the Procura. Fr. Jaroslaw led the prayer of praise and thanksgiving, and Christmas carols sung in different languages. According to Pallottine tradition, after the blessing, the participants kissed the statue of Bambino Gesù.
For our guests a real surprise turned out at the last event of the common celebration – drawing of a "Service at the Crib" This tradition of the Pallottine Sisters of the Polish communities has settled very well in our international communities of the Generalate and the Procura. All participants received a special task for this year, which should bring them closer to the Lord. May the Lord, who always comes to us and reveals to us His love and mercy bless our efforts in the implementation of these tasks to our "Service at the Crib" and bring abundant fruit and glory to Him.