Pallottine Missionary Sisters all over the world are used to going about their daily works of charity because "The Love of Christ impels us." They do not expect recognition and accolades. Yet, on October 22, 2021 we Pallottines Sisters in West Virginia (USA) found ourselves at a "Charity in Action Rewards Luncheon" to be recognized by Catholic Charities of West Virginia for our devotion to the service of others.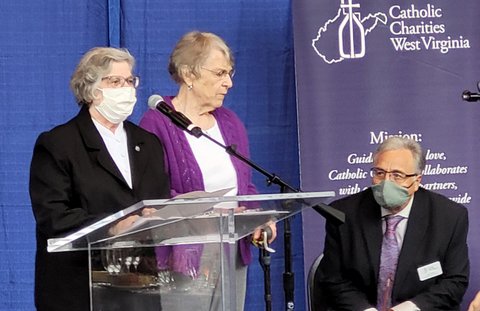 Our Provincial, Sr. Mary Grace Barile, SAC, echoed our thoughts when she said in her acceptance speech that "We are simply doing what we have dedicated our lives to – taking care of those in need." She also said, "If I could share this award with everyone who has inspired us over the years, it would be a very long list." Sister continued thanking everyone who has and is working side by side with the sisters in our ministries. Four lay men and women were presented with the 2020 Charity in Action Award.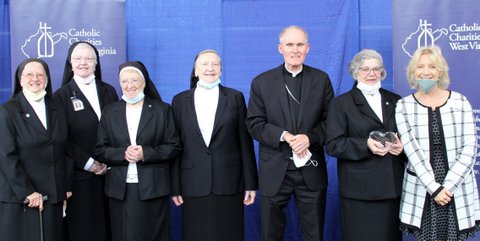 Bishop Mark Brennan spoke about the importance of "Living the Truth in Love" and "Showing Love in Action." He quoted St. James 2:14-26 who explains that there is no dichotomy between faith and actions, "So you see, faith by itself is not enough. Unless it produces good deeds, it is dead and useless." (James 2:17) Sisters Mary Grace Barile, Joanne Obrochta, Elisabeth Heptner and Mary Terence Wall together with members of the St. Mary's Medical Center Administration and Staff, the CEO of the Pallottine Foundations and staff as well as other friends of the Sisters had traveled from the Huntington area. Sr. Francesca Lowis and the President of St. Joseph's Hospital as well as two staff members came from Buckhannon, WV. Because of the pandemic the Sisters from Huntington and Sr. Francesca had not seen each other since Christmas of 2019. All enjoyed the program, the luncheon and especially each other's company.
Sr. Francesca Lowis SAC