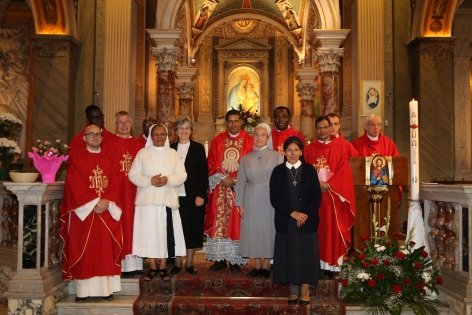 On Pentecost Sunday, in the Church SS. Salvatore in Onda the two Pallottine Sisters' Congregations: Congregation of the Sisters of the Catholic Apostolate and Missionary Sisters of the Catholic Apostolate celebrated the Anniversary of their foundation. This beginning was made in 1838, when St. Vincent Pallotti opened the Pia Casa di Carità in Rome for orphan girls, with a group of pious women to take care for them.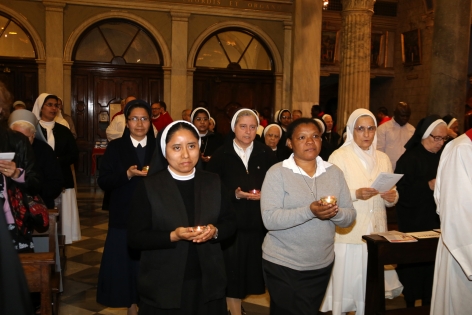 In the presence of many Sisters of the two Congregations, with their Superiors General Sr. Ivete Garlet CSAC and Sr. Izabela Świerad SAC and together with Pallottine Priests and Brothers and Lay members, we celebrated with thanksgiving the Mass of Pentecost as our common anniversary. Special guests were the Superior General of the Marian Institute of the Catholic Apostolate in Bolivia, Sr. Carmen Barrón Cáceres and Sr. Pascalina Ndata, General Superior of the Congregation of the Mother of Divine Love in South Africa.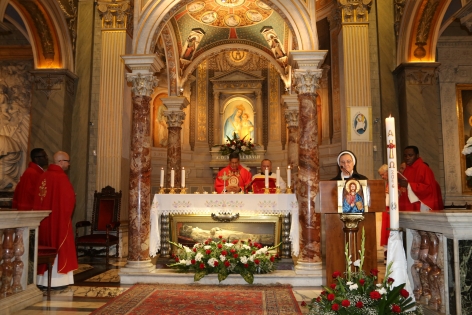 Rector General Fr. Jacob Nampudakam SAC, the main celebrant, congratulated the Sisters and underlined in his homily the special responsibility of the 3 core communities (Society of the Pallottine Fathers and Brothers together with our two Pallottine Sisters´ Institutes) within the entire Foundation of Pallotti, the Union of the Catholic Apostolate. He described their role to be "leaven of unity, apostolic awareness and inspirational group", who are called to "give a face to the Union and to make it alive."
It was a special expression of unity, when all Sisters renewed their vows together before the two Superiors General.
This joyful event was prepared with much creativity and thought; there were speaking symbols during the Penitential rite and Offertory Procession and beautiful voices of the choir of the Pallottine Sisters enriched the celebration.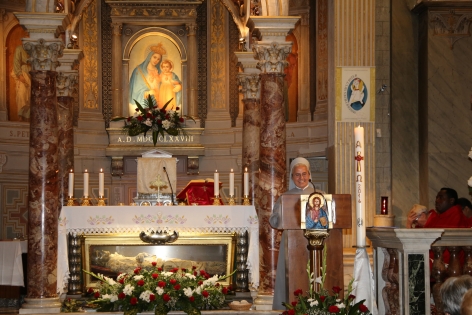 Both Superiors General gave a message of encouragement and inspiration to the Sisters, wishing them to be able to live to the full the call received from God.
Sr. Maria Landsberger SAC