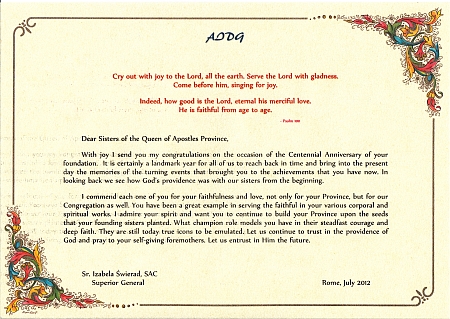 AIDG
Cry out with joy to the Lord, all the earth.
Serve the Lord with gladness,
Come before him, singing for joy,
Indeed, how good is the Lord, eternal his merciful love.
He is faithful from age to age.
Psalm 100
Dear Sisters, of the Queen of Apostles Province,
With joy I send you my congratulations on the occasion of the Centennial Anniversary of your foundation. It is certainly a landmark year for all of us to reach back in time and bring into the present day the memories of the turning events that brought you to the achievements that you have now. In looking back we see how God's providence was with our sisters from the beginning.
I commend each one of you for your faithfulness and love, not only for your Province, but for our Congregation as well. You have been a great example in serving the faithful in your various corporal and spiritual works. I admire your spirit and want you to continue to build your Province upon the seeds that your founding sisters planted. What champion role models you have in their steadfast courage and deep faith. They are still today true icons to be emulated. Let us continue to trust in the providence of God and pray to your self-giving foremothers. Let us entrust in Him the future.
Sr. Izabela Swierad SAC
Superior General
Rome July, 2012
Link to PDF: 100th Anniversary of Queen of Apostles Province