On Sunday afternoon of 6 November we hosted in our Generalate the distinguished and always friendly Pallottine Fathers: Fr. Henryka Kietlińskiego SAC and Fr. Jerzego Błaszczak SAC. Together with the Sisters of the Procura we spent few nice moments listening the stories of our guests, whose experience and wisdom of life stoped for a moment in time, for sharing with remembrance, faith and to look to the future at our Pallottine community. Fr. Kietlinski, as we know is the Postulator for the proces of beatification and canonization of Bl. Józef Jankowski and Fr. Józef Stanek and the Pallottine Fathers – candidates, who belong to the group of the martyrs from Second World War.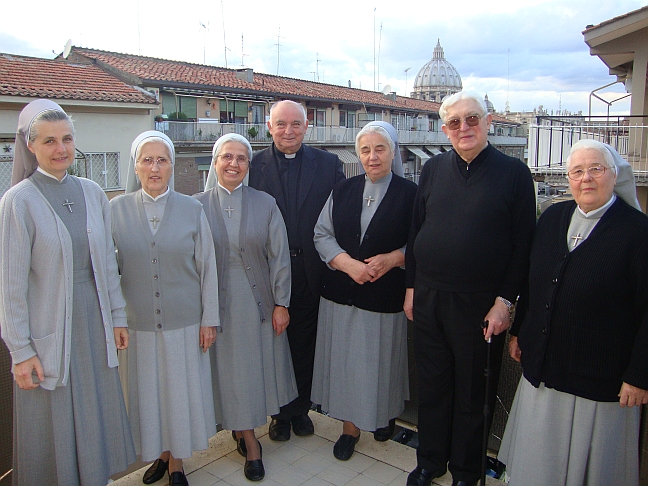 From left: Sr. Bozena, Stella, Izabela, Fr. J. Blaszczak, Sr. Helena, Fr. H. Kietlinski and Sr. Barbara
In the diocese of Warsaw-Praga, Poland just completed the process of rogation of Fathers: Franciszek Bryja Franciszek Kilian, Norbert Jana Pellowski, Jan Szambelańczyk, Br. Paweł Krawczewicz and seperarte Fr. Stanisław Szulmiński in St. Petersburgu, Russia. Fr. Kietlinski coordinated the work, and collected a lot of documentation, which is a great spiritual heritage for the UAC and for the Church.
Presenting the living witnesses of Risen Christ, whose faith and love brought to the heroic testimony is for us a remembrance that we must walk guided by Jesus, for who the passage through martyrdom was a gate to resurrection. Also we shared memories about our Pallottne saints -Fathers and sisters of these who are day, who not proclaimed saints, they lived a saint life.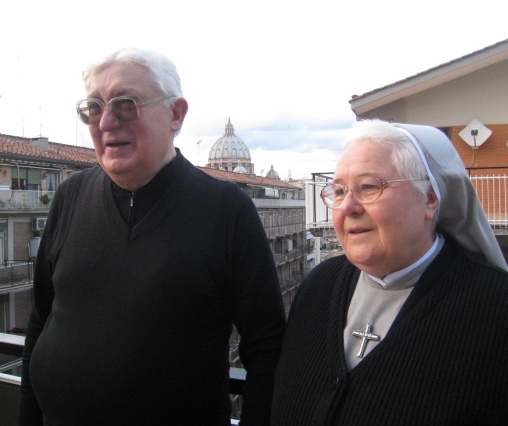 Fr. H. Kietlinski and Sr. Barbara
Srs. Stella, Barbara and Helena, who live in Rome for long time, still remembered the "good and hard" days when Fr. H. Kietliński helped them in the process of establishing of Polish foundation in Rome from the very beginning. As a General councilor, her collaborated very well with Sr. Zygmunta Bielawa, who for many years was a member of the General council.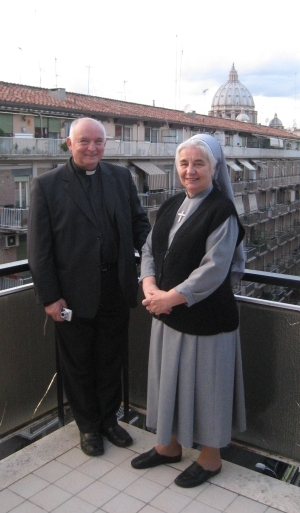 Fr. J. Blaszczak and Sr. Helena
Following this friendly and family encounter, in the evening we went together to the Polish Center to meet and hear a conference of Archbishop Mieczysław Mokrzycki on: John Paul II – a man of prayer organized by the Foundation of John Paul II in Rome.
Fr. H. Kietliński said: when we start to speak about our saints, they began to act.May these words renew in us faith and invite us to pray through the intercession of these holy men and women.