The Vacation Bible School Titled Cool Kingdom was held from 8th July 2019 to 12th July 2019 at Laurel, St. Mary of the Mills Parish Day Care Center. About 105 school students attend.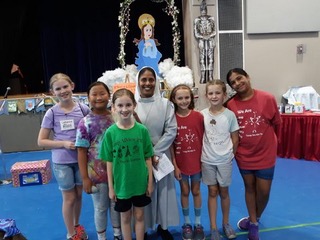 The themes were based on Virtues of Mother Mary's experiences on Obedience, Faith, Love, Purity and Joy. There was a great display of music, acting, art and craft, faith station fun and games. So much so that even the snacks were prepared in line with the theme.
The Cool Kingdom was organized by the home school teachers and our Parish Priest Fr. Anthony inaugurated and blessed the start of the VBS.
I was a volunteer and helped out with distributing and explaining the themes and asking questions on the theme based snacks. Over all it was a participatory and fun to be around with the enthusiastic children. I observed that the children were able to memorize scriptural passages on a daily basis and at the end of the VBS they were able to quote the memorized verses.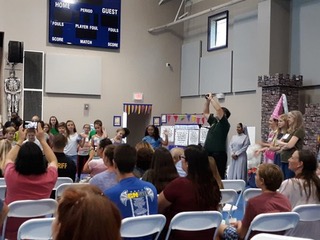 In the process, I learned to relate to children, communicate and understand at their level and apply certain aspects into my life as I walk in my spiritual journey. I had a very warm relationship with all the teachers who were helpful, cooperative and supportive and I would like to thank the teachers for being so good to me, a stranger in their midst.
The Cool Kingdom concluded with the Holy Mass celebrated by the Asst. Parish Priest followed by Potluck meal. May God's Blessing continue to be on the children and on the organizers.
Sr. Sahaya SAC