Consecration is the door for us to enter through to enjoy all the riches of God's salvation. When we give ourselves to the Lord, He leads us in our experience into the enjoyment of the rich blessings of God's full salvation. Experiencing great love of God in their consecrated life two of our sisters namely Sr. Josmita Lomga and Sr. Sharmila Minz made their final commitment and dedicated their life completely to God in the congregation of Missionary Sisters of the Catholic Apostolate on 24th of May 2023, of Mother of Divine Love Province, Bangalore, India.
The theme for the celebration was "I Have Loved You. Remain In My Love." The main celebrant of the Holy Eucharist was His grace Most Rev. Peter Machado, the Archbishop of Bangalore. Thirteen priests concelebrated along with the archbishop. In his homily the archbishop spoke on three aspects of love, that is to be born in love, to serve in love and to remain in love. He also reminded the sisters that consecrated life is not about position or power but rather it is a beautiful gift to remain in God's love, accept His will, and bear much fruit. He also said to love is very easy but to remain in love is very difficult and challenging. He stressed very much on this occasion to remain in love whatever life offers.
With a heart full of gratitude to God, Sr. Helen Lourdusamy, Provincial Superior of Mother of Divine Love Province India received the Final Vows of Sr. Josmita Lomga and Sr. Sharmila Minz in the presence of our General Councilor Sr. Alda Isa Paes, Pallottine Fathers and Sisters of the Catholic Apostolate, lay UAC members, other Religious Sisters, parents and relatives of our sisters.
The Mother of Divine Love Province is grateful to God for the gift of these sisters for their service in the Church and Congregation. May God bless them abundantly so that they may always live in the awareness that it is God who has called them by name and that they totally belong to Him. Thus, they may get strengthened in their vocation and continue their journey of life with the Pallottine Missionary Sisters and always remain in God's love.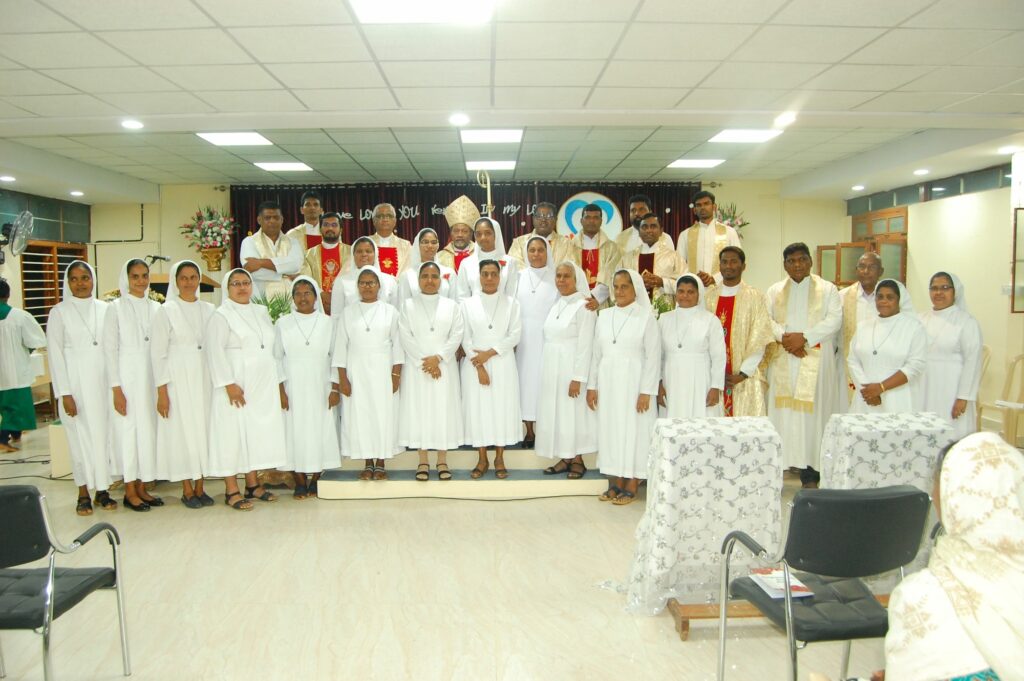 Text and Photos: Sr. Celeste De Souza, SAC