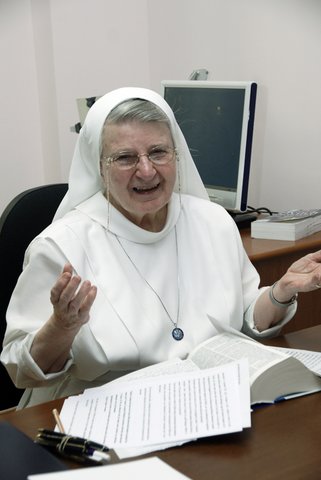 Sr. Mary Michael (Rita) Ronan, SAC
January 14, 1928 — April 29, 2015
God decided to take Sr. Mary Michael back to Himself the early morning of April 29, 2015.
Sr. Mary Michael was the daughter of William Henry and Gertrude MORRISSEY Ronan in Waterbury, Connecticut. She was the oldest of four siblings: Barbara Ronan Pohl, Ann Ronan McCandless, William Henry, and Edmund Terence. Her mother died while they were young and her father sent her to St. Mildred's Boarding School in Laurel, MD—where she met the Pallottine Missionary Sisters.
Her religious life began in September 8, 1947 in Huntington, WV. She made first profession on August 15, 1950 and her final vows on August 15, 1956. Her circle of life came to an end on April 29, 2015.
Sr. Mary Michael is well known in the Congregation as a renowned translator of French. She had spent some of her final years in Rome assisting the Generalate as translator and secretary-having done work for Superior Generals' Izabela Swierad, Stella Holisz, Maria Knaus, and Elisabeth Heptner.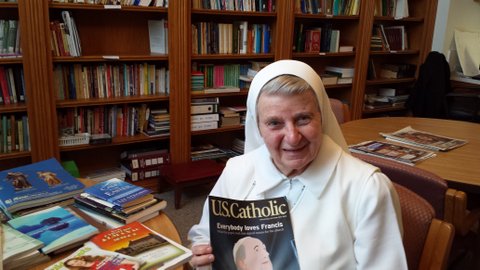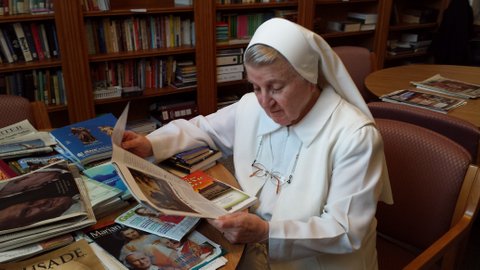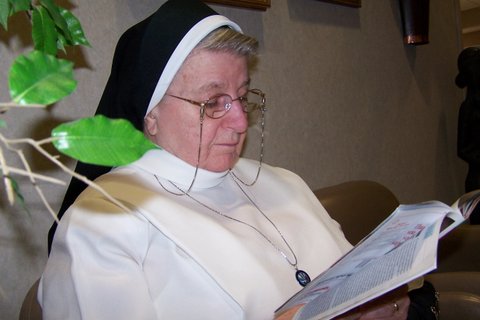 She received her B.A., Ed., English at Duquesne University, a Masters' Degree in French Literature at University of Notre Dame, and a Masters' Degree in Theology at St. Charles University (Pennsylvania). Her early years were spent in teaching high school students. Besides her passion for language and teaching, she valued her role as Mission Procurator in the province. Her eyes would sparkle whenever she solicited funds for Tanzania, the Cameroons, or wherever the Congregation needed aid. She would make her own cards when she was able to do tatting- an art using thread and weaving patterns such as flowers. When she was no longer able to do her own artwork, she would use old greeting cards and create new ones to be sold to friends and Sisters.
Throughout her religious life, she stayed in close contact with clergy. For many years she taught Vacation Bible School and continued to send sacramentals to the mission in Powhatan, WV and Logan, WV.
These last years have been difficult with the loss of eyesight in one eye and severe hearing loss. Even with these losses, she struggled to stay informed, continued to do whatever was asked with translations via the Internet, and kept in touch with the Congregation from her computer located in the convent library. After a heart attack and stroke she spent her final days in St. Mary's Infirmary.
Visitation will be at St. Mary's Chapel on Friday, May 1 and burial will be in Springhill Cemetery on Saturday morning.
Sr. Gail Borgmeyer SAC
Provincial