I will try to arouse in me a lively compassion for everyone. (St. Vincent Pallotti)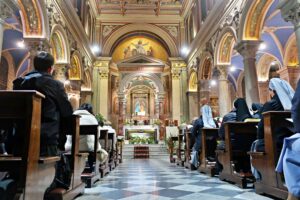 At the Church of San Salvatore in Onda, the celebration of St Vincent's feast day was preceded by a Triduum. Both were under the theme "Moved by compassion and hope to build peace".
The main celebrants and homilists on Thursday and Friday were the Pallottine General Councillors newly elected in October, Fr. Rahul Philips and Fr. Daniel Rocchetti on Thursday, Fr. Joseph Jules Nkodo and Vicar General Fr. Derry Murphy on Friday. On Saturday, the liturgy was animated by the students of the Pontifical Urban College "De Propaganda Fide", with Vice-Rector Don Wixin Masih as the main celebrant and homilist. Following a long tradition, one of the students read out the response to a letter written by St Vincent Pallotti in 1849 to the students of his time in the difficult situation of the revolution in Rome. On Sunday, the proper feast day, Rector General Fr. Zenon Hanas was the main celebrant, who also delivered the homily. On all four days, evening masses were preceded by eucharistic adoration and vespers. After the holy mass on Sunday there was an opportunity for friendly encounters between the Pallottine family and all the guests.
For more photos go to event galleries.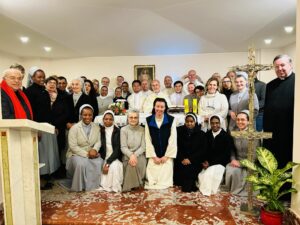 On Saturday morning we Pallottine Missionary Sisters invited our collaborators to a common celebration of our Founder in the Procura Generale. Our employees with their spouses, lay members of the Pallottine Union and priests from various congregations accepted the invitation, as did some of our guests. The holy mass was celebrated by Fr. Derry Murphy SAC, who also gave the homily.
The celebration continued with a festive meal where, apart from the food, we enjoyed the family atmosphere which encouraged joyful encounters and sharing.
Photos: Fr. Manuel Raj SAC and Lotte Voets