SACRED HEART SCHOOL: 1948-1977
In September of 1948, Sr. Anita Fromn and Theophila Gemsa opened this little school in the West end of Huntington. The building was not completed by the time school started, and Msgr. Newcomb offered two classrooms of St. Joseph Grade School to Sacred Heart students. It began with grades one through six, and grades seven and eight were added later. By Christmas the new school was ready, with four classrooms and a cafeteria.
The people were relatively poor in this parish, and for some years the sisters taught without salaries. In later years enrollment lagged, and for various reasons, the Pallottines gave up the school in 1977.
In 1985, the Pallottines returned to Sacred Heart Parish. Sr. Mary Terence Wall became Pastorial Associate at this time. This involvement continues until the present, and Sr. Terence still lovingly serves the people of this parish.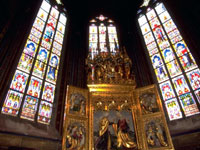 Sacred Heart Church