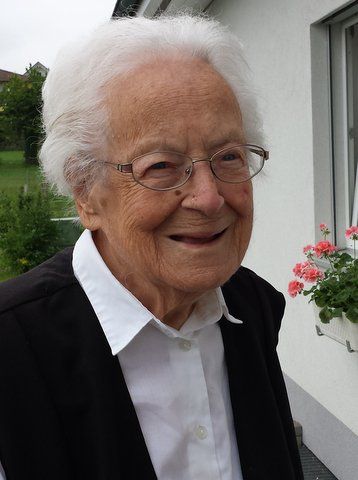 On the 23rd of February 2016 the Lord called to His eternal home our fellow Sister
Sister Bernhilde
Anna Maria Roos
On the 13th of June 1913 Anna Maria Roos was born to her parents Bernhard Roos and Zäzilia, née Schönberger. She grew up with seven brothers and four sisters. In Bütschwil, where the house of her parents is until today in the middle of the village, Anna attended the primary- and the secondary school. After school she worked for some years in a knitting factory in Bütschwil.
Sr. Bernhilde said about herself that already as a child she heard the call of God and was conscious of it, but when she had left school she had a boyfriend and put God off until later. However this "later" came earlier than she thought. The Pallottine Sisters, who lived in Gossau on the Friedberg, invited Anna to the mission-school in Niederuzwil.
Whilst her brother Bernhard had been ordained Priest and her elder sister Ida started her religious formation in the German Mother House of the Pallottine Missionary Sisters in Limburg, Anna entered in 1933 the candidature of the Pallottine Sisters in Niederuzwil and changed a year later over to Germany, where she continued her candidature in Limburg/Lahn. In 1935 Anna was sent for two and a half years to England, where she studied for teacher in mission countries. These years should give Anna a solid religious education and also prepare her for the professional career. Many years later she referred to this school as a time of a "tight foundation".
In 1938 candidate Anna started her religious formation in the proper sense: the Postulancy and the Novitiate. As Sister she received the name Bernhilde in memory of her father Bernhard. In 1940 she pronounced her first vows in the community of the Pallottine Missionary Sisters. Being still in her Novitiate, she studied for nursery-school teacher in Limburg. It was war-time and therefore no Sister could be sent to a mission country. Sr. Bernhilde had to cope with this disappointment, consequence of the war. Her missionary hopes seemed to be crossed out and after her profession she was sent to Niederuzwil, where there were more than enough tasks for a young Sister.
In 1944 it was then a special joy for the 31 year old Sr. Bernhilde that she was one of the first Sisters who could get ready to go to Bernhardzell, which was a new foundation. The new beginning was very poor and for the young Sisters it feeled as if they were starting a real mission. In 1945 Sr. Bernhilde could start something very new in the then small village Bernhardzell with the opening of a new nursery-school, and she did it with enthusiasm, until a new mission called her.
With the experience of foundations, Sr. Bernhilde was sent to England in 1951 to found a Children's Home in Cheshire. About this Home Sr. Bernhilde wrote later: "The Home 'Pallotti Hall' was built up with much love, sacrifices and privation. It brought much blessing and fruit and became very dear to my heart".
This task wore Sr. Bernhilde out and she wished to return to Switzerland. In Bernhardzell she was again at the right time at the right place when a new institution was opened. In 1973, with 60 years of age, she took on the responsibility for one floor of the newly opened Old-Age-Home St. Wiborad and worked now, as she expressed it, "as companion of mature, grown-up people".
Sr. Bernhilde was all her life grateful for her parental home and said: "God gave us saintly parents, poor in earthly goods, but rich in trust in God". Based on these gifts she could live her life and share them with others. Already as a young woman she was characterized by what one could see still at the end of her life: she was determined and independent, she went her way fully convinced. Trust in God and a great deal of courage distinguished her. When on the occasion of her 65th Jubilee of Vows she was asked how she mastered difficult times of her life, she shortly answered: "The Lord is our stronghold!" To Father Gregory SAC, who during her last days administered to her the anointment of the sick, she thanked with the words: "You are a treasure!". Yes, that was Sr. Bernhilde.
The Lord in whom she trusted, and in whom she hoped, to whom she had consecrated her life, may give her now life in fullness.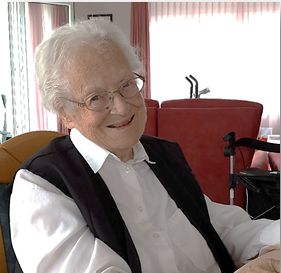 The funeral will be on Monday, 29th February 2016 at 10:30 am in Bernhardzell, followed by the Holy Eucharist in the church.
Written by Sr. Maria Dörig
Sr. Raphaela Fuchs, Delegature Superior