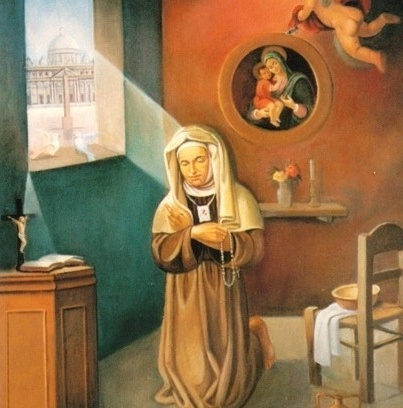 Introductory Prayer:
Most Holy Trinity, Father, Son and Holy Spirit, I thank you for having enriched our sister Elisabetta Sanna in a marvellous way with wisdom, counsel and fortitude. Through her merits, I ask you to grant me the grace which I earnestly desire …………………, if this is in accordance with your Most Holy Will.
Our Father, Hail Mary, Glory be…
Saint Vincent Pallotti, pray for us!
Blessed Elisabetta Sanna, pray for us!
First day: wife and mother

From when she was a young girl, Elisabetta desired to become a nun. Having lost the ability to lift her arms, she didn't think of getting married, and yet, as a young woman, many young men wanted to marry her. Thus, on September 13th, 1807, at 19 years of age, she celebrated marriage with a certain Antonio Maria Porcu, a truly good Christian of modest means.
Antonio was an exemplary husband and father who loved his wife and trusted her completely. In fact, he said to his friends: "My wife is not like yours, she is a saint"! Elisabetta would say: "I was not worthy to have such a husband, he was so good". Their family was a model for the entire area. In the following years, seven children were born to them. She spent her days between the house, the education of her children and the land, where she worked without sparing herself. And she also found time for long hours of prayer in church. She didn't fear criticism for the faith which she so publicly professed and lived: "This is my style of life – she responded – it hasn't prevented me from attending to my duties as the mother of a family". She herself prepared her children for Confession and Communion and passed on to them a great love for Jesus, with much tenderness, without ever being sharp. A true education from the heart
Prayer:
O God, sanctifying Spirit, who love the Church your Bride, you poured the flame of your love into the heart of Venerable Elisabetta Sanna and radiated it in her family, the domestic church. I thank you for this exemplary wife and mother, for her encouraging and simple witness. Give to every woman – married, mother, single, consecrated – the grace of being a presence which forms every family, every community, into a cenacle of faith and love, in generous hard work and sanctifying service.
Our Father, Hail Mary, Glory be…
Saint Vincent Pallotti, pray for us!
Blessed Elisabetta Sanna, pray for us!