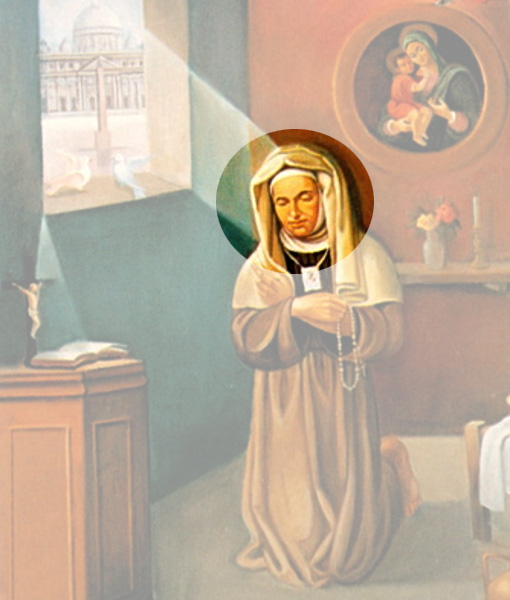 Introductory Prayer:
Most Holy Trinity, Father, Son and Holy Spirit, I thank you for having enriched our sister Elisabetta Sanna in a marvellous way with wisdom, counsel and fortitude. Through her merits, I ask you to grant me the grace which I earnestly desire …………………, if this is in accordance with your Most Holy Will.
Our Father, Hail Mary, Glory be…
Saint Vincent Pallotti, pray for us!
Blessed Elisabetta Sanna, pray for us!
Eighth day: a great love for the Eucharist

In Codrongianos, Elisabetta took part in the Mass nearly every day. In Rome, she was in St. Peter's Basilica every morning and, if she didn't have other commitments, remained there until the last Mass, because she was convinced that through the Eucharist, we can worthily give to the Lord what we should, through adoration, praise, thanksgiving and prayer.
She also encouraged others to go to daily Mass. In a particular way, she adored Jesus in the Eucharist in the churches where the "40 hours of Adoration" were held, and where she remained for a long time, in profound adoration. Fr. Valle said that she managed to receive up to seven Eucharistic blessings in one day. Here the words of Fr. Melia, regarding Elisabetta's love for Jesus in the Blessed Sacrament of the Eucharist, are proven true: "She was so devoted to and enamoured of it that she would have consecrated her whole life to continuous adoration".
Prayer:
(prayer of Saint Vincent Pallotti before the Blessed Sacrament):
And you, o Seraphim, Cherubim, Thrones, Dominations, Powers, Principalities, Virtues, Archangels and Angels, come to visit the Sacramental Jesus, and adore him, thank him and love him for me; and you too, o Holy Patriarchs and Prophets, Apostles and Evangelists, and Disciples of the Saviour, o Most Holy Innocents, Most Holy Martyrs, Most Holy Pontiffs, Bishops, Doctors, Most Holy Priests and Levites, Most Holy Confessors, Virgins and Widows, and all you Saints of Paradise, come all of you and visit his most divine Son in the Most Blessed Sacrament of the Altar and, all together, now and always let us adore him, thank him, and love him.
Our Father, Hail Mary, Glory be…
Saint Vincent Pallotti, pray for us!
Blessed Elisabetta Sanna, pray for us!