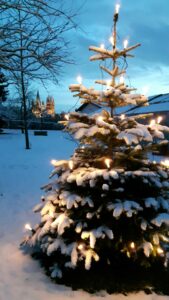 My soul thirsts for God, the living God
Ps 42:3
Advent is the season of waiting, of longing, of hoping for more and more of God in my life.
That means longing again and again for the one who is already there, but who always again wants to grow in me and take me over completely.
Advent gives me the opportunity to face my own longing anew and to let it grow so immensely that there is no other possibility than to contribute to bringing God into the world.
Sr. Simone
Photo by Sr. Adelheid Scheloske SAC: Limburg Cathedral, 2017