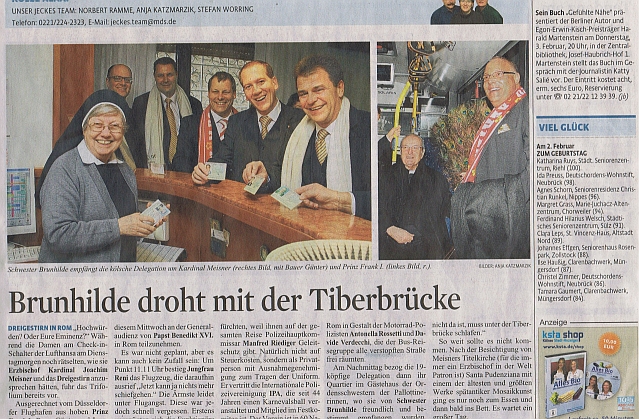 On the feast of the Presentation of the Lord in the temple, after the morning Mass, during which the sisters renewed their vows, with joy we encountered in the Procura the "Koelner Dreigestirn" (Prince, Farmer, Virgin) as well the 20 representatives of the Carnival of Cologne. The group of pilgrims was accompanied by Cardinal Joachim Meisner. They were guest in our house and were here in Rome for the General Audience with the Holy Father Benedict XVI.
The carnivalist presented to the community of Procura a Bronze Medal symbolizing the "Fest Komitee Des Koelner Kanevals" as a rememberance of their stay at Procura Generale.
Sr. Barbara and Sr. Brunhilde were honoured with a Medal by the president of the Carnival group.
Sr. Brunhilde Vogt, SAC