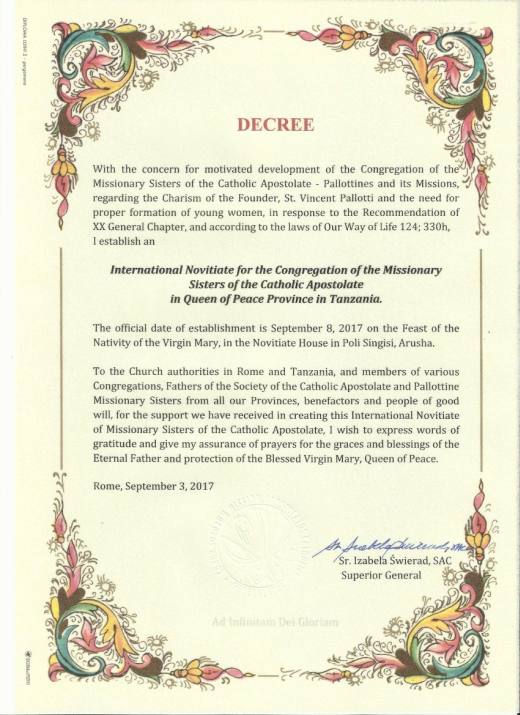 Inauguration of the International Novitiate
8thSeptember 2017, Poli Singisi, Tanzania
Words of the General Superior to all the Participants of the celebration: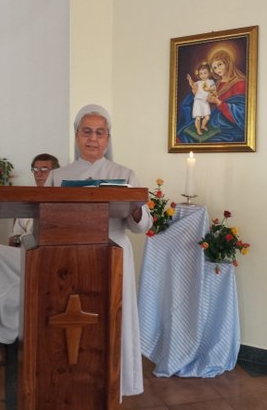 Today, on September8ththe Church celebrates the feast of the Birth of our Blessed Mother. This day is also very significant and historical for us Pallottine Missionary Sisters, who will give birth to a new International Novitiate here in Poli Singisi, Tanzania. This initiative of creating an International Novitiatefor our entire congregation had a few reasons: to spread our charism and carry on the mission work entrusted to us by God; to bring closer unity and collaboration among all the members of our Congregation, and to form mature and courages missionaries and disciples of different nationalities and cultures, who through diversity, but in unity, will carry on the Joy of the Gospel through the Pallottine Charism, and through their testimony of faith, love and hope, as well as lives and works – to the nations.
This has been our intention of many prayers and topic discussed often at our various meetings and gatherings. It has taken a few years of preparation before the ultimate decision was made followed by the recommendation of the last General Chapter 2016. Our Lord gave grace, courage and showed us the ways…
Today the idea came to reality, and we all witness this great, joyful and unforgettable event. Tanzania and this young Pallottine Province was chosen to be a cradle of vocations and its growth for the Church in Tanzania, Africa and our Congregation. Our founder, St. Vincent Pallotti must be happy as his idea of bringing together a universal Church of Jesus Christ is continued by his daughters and sons, and desire of uniting all the people of different nations and countries, cultures and races is being fulfilled.
Dear Fr. Philip Massawe, Provincial of the Holy Ghost Fathers, dear Brothers and Sisters. To this unique and significant day I wish to express my warm welcome to you all and invite you to give thanks and praise and joy to God, who is rich in mercy. "Grace and peace to you" (Romans 1:7).
The Gospel and the Charism has no boarders, neither do they know the cultures, color of skin, or language, but it is the love of Christ, who bonds them together and urges us all to work untiredly for the infinite glory of God, destruction of evil, and salvation of the world, that is so much troubled today. These young women, who are united here in this Novitiate House for God's purpose-give witness to this. They left their countries, homes, families and dear ones to respond to the divine call and voice of Jesus Christ to follow Him in this International Pallottine Congregation.
Dear Postulants and Novices, you are coming from different countries of the world: from North and South, East and West, to give testimony of God's vocation. You will be the first inhabitants of this International Formation House, and the future of it will depend on you. You will walk the first steps and put the first bricks for the foundation of the future generations. You will create the atmosphere of different cultures and prepare the ways for those who will come after you. This is a very important but not easy task; however, with God's grace and your openness, help, and love of your superiors and formators, Tanzanian sisters and brothers, you should always walk in the light of the Lord. The road shall never be dark.
I am sure that each one of you and all of us are thinking now – how will this be?
No doubt, that homesickness, various difficulties, fears and even tears sometimes will accompany you. Never the less, let us always remember the words of Jesus to His disciples, Do not be afraid, I am with you! I say the same, do not be afraid, we will all be with you and for you. Take an example from the Apostles, Saints, our Founder, and the first missionaries, who were sent by their Superiors to the unknown lands and often the journey was long and hard/rigid. Sr. Annemarie, from South Arica, Sr. Rosemary and Sr. Mary from England, can give their testimonies, of their first missionary experience. We must also remember that this year we celebrate the 125thAnniversary when in October 1892, the first 6 Novices -missionaries- of Pallottine Sisters were sent from the International Mission College in Rome to our first mission in the African land, to Cameroon… That was our beginning in Africa. Since that time, we have spread our charism to seven African countries and 20 in the world. Let us praise the Lord for His blessing and His presence.
The internationality and interculturality is calling us to build human fundaments, that all may be one, that the world may believe that we are sent by God. The Gospel is calling us to newness, to go forth with a message of love, of peace and hope to the poor. Our Pallottine charism is calling us to build the Kingdom of God in unity and collaboration and to respond with openness to the signs of time. Let us do everything in our communities for the Word of the Gospel to become life. (Chapter Message). May God bless us all as we serve and journey together in sanctification of this world.
May this new wine in new wineskins brings new life, taste and maturity of fruit. "May Holy Mary, Woman of the new wine guard the desire in us to go forward in obedience to the Holy Spirit recognizing the sign of His presence in the new wine, fruit of harvest and new seasons" (New Wine in new Wineskins, 57).
Sr. Izabela Swierad, SAC
Superior General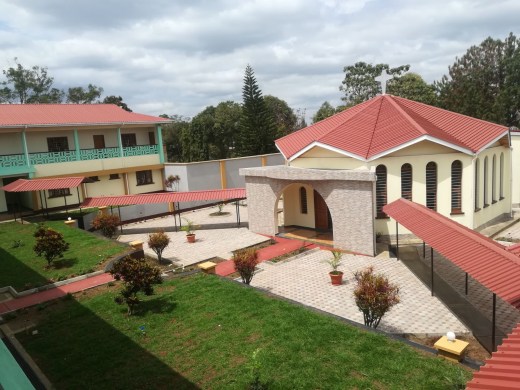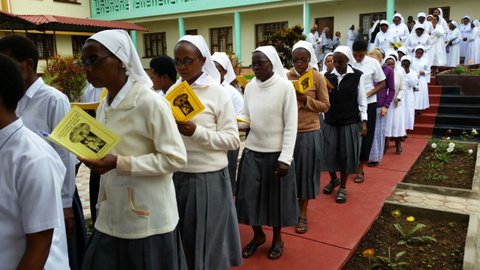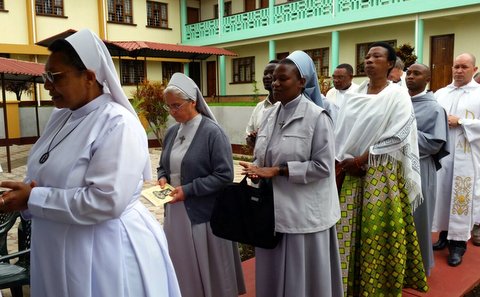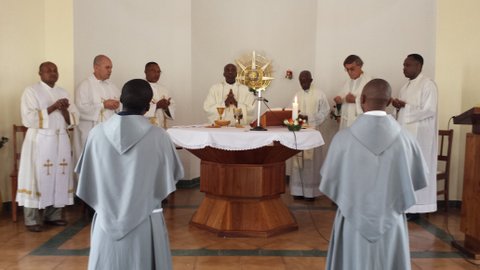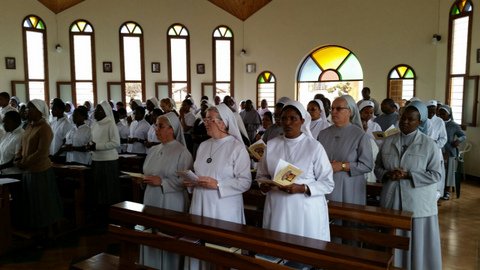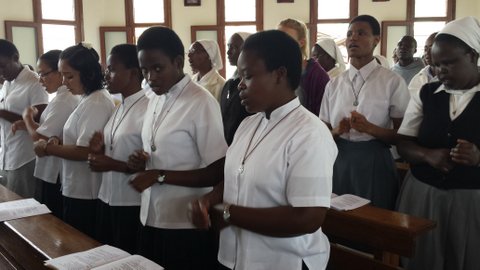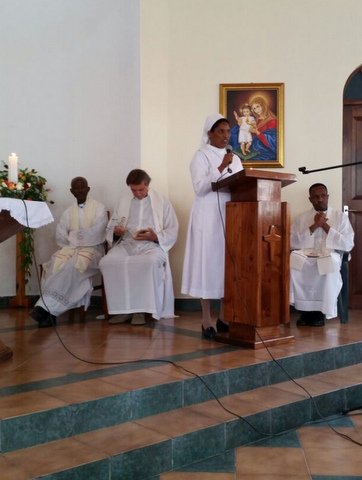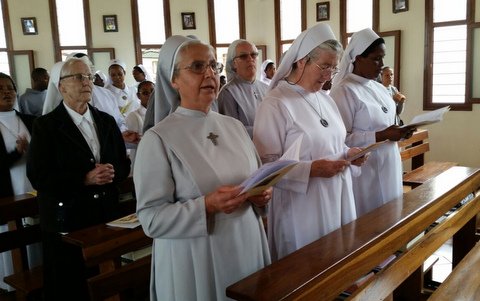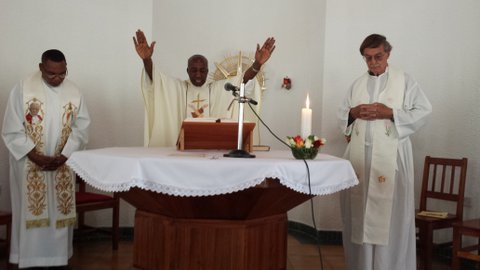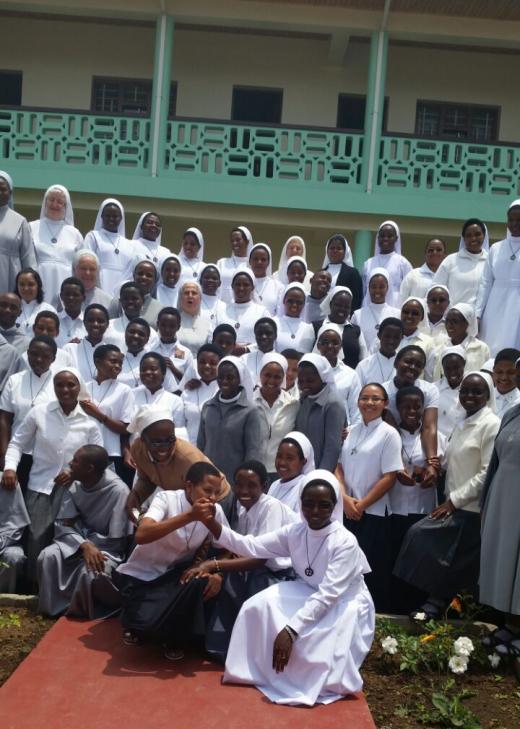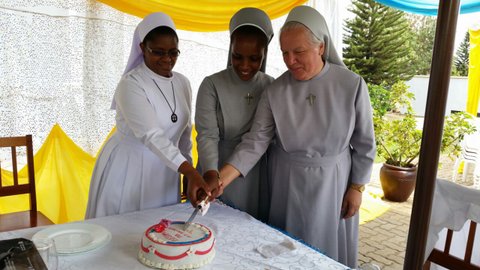 Formation team (L2R): Sr. Agripina Mmassy – 1st Assistant, Tanzania,
Sr. Marie Claire Mukashimana – Novice Mistress, Rwanda,
Sr. Anna Kot – 2nd Assistant, Poland/Cameroon