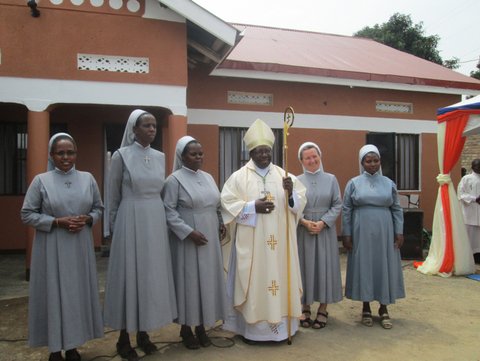 Today, on 28 December 2016, the Inauguration of the convent for Pallottine Missionary Sisters has taken place. The inauguration ceremony was officiated by the Rt.Rev. J.B Kaggwa, Bishop of Masaka Diocese in the presence of Sr. Marta Litawa, Vice Regional, Sr. Cecilia Bimenyimana, Regional Councillor and Members of the new community, Srs. Odetta Musabyimana, Superior of the community, Sr. Console Mukayirabuka and Sr. Rosa Nyirahabimna Makeke. They have been welcomed by the parish community and some members of the Union of Catholic Apostolate, Masaka Diocese, during the celebration of the Holy Eucharist.
The Blessed Sacrament was placed in the Tabernacle and faculty of administration was given to the Superior of the community and the keys of the convent passed over to her. The ceremony was accompanied with a nice meal.
Thanks be to God for having the Pallottine Missionary Sisters in the Diocese through the intercession of St. Vincent Pallotti, for ourselves we can do nothing, with him we can do everything, and we would like to do everything out of Love for God.
Fr. Eugene Kalyango,
Diocesan Priest and coordinator of the Union of the Catholic Apostolate in Masaka Diocese in Uganda.