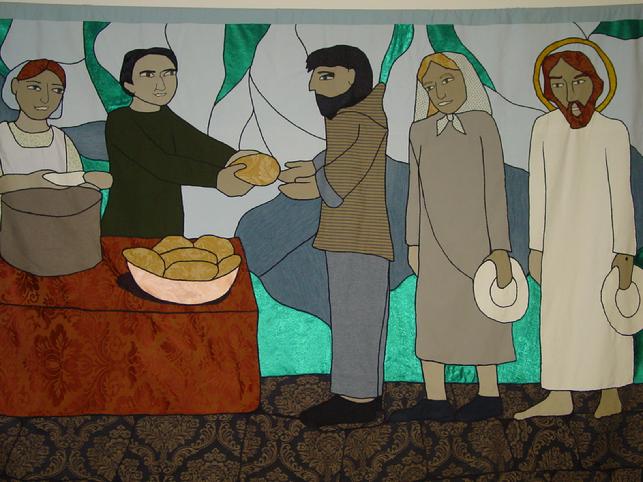 It was a great excitement for our community to take part in the program of "Feeding the Hungry" which was organized by our Parish of Santa Maria delle Grazie at Fornaci. I was accompanied by my community members: Sr. Hanna, Sr. Santa Maria, and Sr. Ester and Sr. Magdalena. Though I witnessed many such programs in my home Country India, yet, I was curious to know and to experience this charitable act in Rome in the extraordinary Year of Mercy.
At the request of the parish priest, my community at Procura prepared baked potatoes and carrots to serve about 50 homeless people. At mid-day I marched down the road towards the parish Church to join the group who will be involved in this program. I grabbed this opportunity and with my broken Italian, I started conversing with the homeless people who gathered around the parish. I was not only serving the food but I took time to listen to each one of them who approached me with a smile. I heard many stories from them which changed my opinions of homeless people. Allowing these people to open up to me showed me how life can be taken for granted. However, I realized that not every homeless person is dangerous or stereotype made by people who don't bother to talk to them and get to know the truth. The majority of the people I became acquainted with were friendly. One of them entertained the others with music and songs which made the environment enjoyable.
Through feeding homeless people, I've discovered that the lower classes of people are no different than me. Indeed, they had no choice but receive whatever was given to them. This made me to reflect on my own religious and to see how fortunate I am to have variety of food served at the table, and still many a times I was unsatisfied. I believe this unforgettable experience with the hungry and homeless will continue to linger in my heart. The face of Jesus which I discover in poor and marginalized will certainly encourage me to reach out to the poor in my daily life. At this point I am reminded of a verse from the Gospel "Whatever you do to the least of my brothers and sisters you do unto me".
Thanks to Sr. Magdalena, the superior of our community who initiated and encouraged us to be present and be witnesses of joy and hope for these people.
Sr. Christina Chirote, SAC