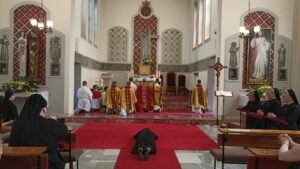 On 29 June 2023, on the Solemnity of the Apostles Peter and Paul, Sr. M. Justyna Radulska, SAC made her final vows in the Church of Christ the King in Gdańsk in the presence of Provincial Superior Sr. Iwona Nadziejko, SAC. She consecrated herself to the Lord God forever during a Holy Mass presided over by Fr. Tadeusz Świątkowski OFMConv., her uncle. Among those concelebrating were the Parish Priest, Fr Bartłomiej Stark, and the Rector of the Community of Pallottine Fathers. Two seminarians of the Gdansk seminary served at the altar.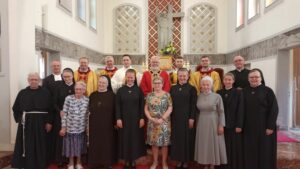 Sr. Justyna pronounced the words of the vows in front of the Sisters, the numerous gathered family, friends and parishioners. The beauty of the liturgy was enhanced by the singing provided by Mr and Mrs Dominika Truszczyńska. After Holy Communion, Sr. Justyna expressed her gratitude to the Lord and then thanked the Celebrants, the Sisters of the Provincial Council, her Formators, the Sisters of the Gdansk community and her parents, siblings and relatives. She is a niece of Sr. Maria and Sr. Zofia Świątkowska. After the Eucharist, everyone went to the house at Malczewskiego Street for lunch. The ladies from Ukraine who live in our convent made a surprise for Sr Justyna by beautifully decorating the entrance to the house. Anyone who saw the decoration could be sure that great and important things were happening here.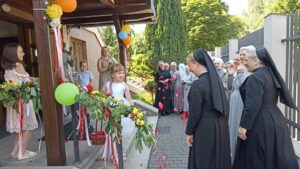 In the hall outside the refectory, everyone was able to wish Sr Justina well. The tasty lunch was followed by a sweet touch in the form of a huge wedding cake. When the cake was cut and distributed, Sr. Justina thanked Sr. Blanka Sławińska, Superior of the community, for her efforts in preparing the celebration by presenting her with a basket of fruit.
We wish Sister Justyna to continue to live her vocation joyfully and to be faithful to God's grace every day.
Photographs taken by: Sr. Justyna Ustarbowska SAC