"All for the Infinite Glory of God". Inauguration and Blessing of St. Vincent Pallotti Girls Hostel and Pallotti Convent on 21.08.2023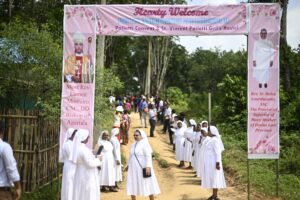 Tripura is a tiny state in India's North Eastern states. The State of Tripura is a mosaic of many languages and ethnic groups. There are 19 scheduled tribal groups in this state, each with its own distinctive language. The encounter of its people with Christianity is relatively a recent phenomenon. Tiprasas (an ethnic group of North East India) claim to be an ancient people. It was an independent kingdom, ruled by kings, whose lineage has come down to our present times. A decisive political change came about when it merged with the Indian Union in 1949. Within few decades, a people that had for several hundreds of years proudly lived in harmony with nature, bearing the scent of the earth on their body, found themselves marginalized, powerless, dependent on others, and overpowered in every aspect of life. When survival became a challenge and bare necessities of life unaffordable, they turned to the earth with renewed fervor. Relegating education to the sidelines they wielded the Agricultural tools: pickaxe, hoe and slasher and engaged passionately in cultivation on hills.
The arrival of the Christian faith can be likened to the Sun breaking forth the darkness of the dawn through the foliage of forest. With the arrival of great light of Christ the eyes of the tribes opened as one asleep opens the eyes when light falls on him. Since then, the seed of faith has been imperceptibly and invisibly growing and slowly transforming all areas of life. Not only did the Church awaken that desire but it also ensured that people were able to follow up on that desire; they set up quality educational institutions in the interior most areas of the state.
Presence of such institutions in such unlikely locations not only made education possible even to those engaged in cultivation, and those who spent half their life on bamboo houses but also served to infuse in unschooled parents the desire to see their children educate. Just as a small spark becomes the mighty unquenchable flame thirsting to see their progeny get education, knowledge and learning. Even those living in remote villages thus got an opportunity to educate their children, often taking advantage of the hostel facilities these schools provided.
In 2018 on May 8th The Pallottine Missionary Sisters of Mary Mother of Divine Love Province, India stepped into this new land to start their first mission at Twichakma, Tripura, in collaboration with the Holy Cross Fathers, North East Province, through the apostolate of education and catering for the needs of the tribal girl child by providing hostel facilities. Sisters began their humble beginning in temporarily built tin shed house and hostel provided by the fathers.
Through God's blessing and the generosity of benefactors the project of the "Hostel for the tribal girls" was granted in the year 2021 but due to the Covid -19 pandemic the mission could only be realized in May 2022. The foundation was laid for the construction of the hostel and the sisters residence on 4th May 2022 and the project was completed on 20th August 2023. On 21st August 2023 the newly built hostel and sisters' residence was inaugurated by Rev. Sr. Helen Lourdusamy SAC, the Provincial Superior, Mary Mother of Divine Love Province, India and it was blessed by Most. Rev. Lumen Monteiro CSC. DD, Bishop of Agartala in the presence of 15 priests, 19 Religious sisters and about 225 lay faithful along with hostel children along with their parents and caretakers. Most. Rev. Lumen Monteiro CSC, DD celebrated the Holy Eucharist along with Rev. Fr. Simon Fernandes CSC, the Provincial Superior Holy Cross Fathers, North East Province and other 14 priests concelebrated. After the Holy Eucharist, there was a felicitation Programme. Children showcased their culture and tradition through their tribal dances. At the end, all shared the fellowship meal together.
"Sovereign Lord, you are God! your covenant is trustworthy , and you have promised these good things to your servant. Now be pleased to bless the house of your servant , that it may continue forever in your sight; for you, sovereign Lord, have spoken, and with your blessing the house of your servant will be blessed forever ." 2 Samuel 7: 28-29.
Text: Sr. Sharmila Pinto SAC, Superior and project implementor
Photos: Dkwchang Debbarma, Studio: Dw kwchang photography
See more photos in the Event Gallery.