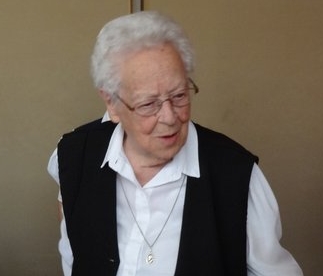 Sr. Bernhilde Roos, SAC

As the summer sun slowly began to rise over the majestic Alps on the 18th of June something different was in the air. Exactly 100 years ago in this same place our beloved Sr. Bernhilde Roos, entered into our world. What a blessing her life would become for so many people, especially the little children. Now in 2013 the time had come to celebrate these past 100 years, and Bernhardzell in St. Gallen Canton, Switzerland, where Sister lives in a small community, was the honored site for the grand festival.
As usual our centenarian was full of joy and fit for the day that began on a sunny summer day with a solemn Mass in the Bernhardzell Parish Church presided by Fr. Andy Givel, SAC with concelebrants, Fr. Provincial Adrian Willi, SAC and two Pallottines from India, a befriended retired priest and Deacon Imboden. Among the festive assembly were Sr. Stella Holisz and Sr. Maria Landsberger, who came from Rome as representatives of the General Government of the Pallottine Missionary Sisters. Superior General, Sr. Izabela Świerad, had just come back from the USA and arrived in the evening. all of the Swizz Pallottine Sisters were present, the Mayor Mr. Müller and his wife, relatives of Sr. Bernhilde, representatives of the Union Community Apis, and members of the Parish.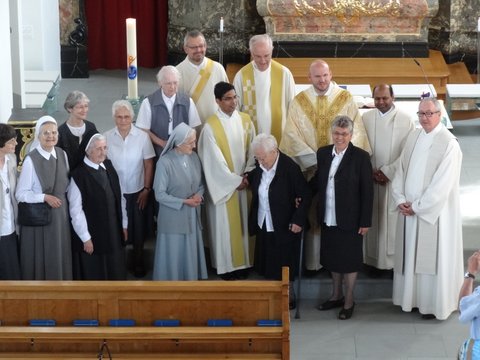 In the opening of the Mass Fr. Andy cited Master Eckhart, who had said, if the prayer of our whole life were reduced to one single word – "thank you" would be enough. However, Fr. Andy said that on such a day of joy and thanksgiving, praise to God must be given in singing. Thus he chose Psalm 100 for his homily for this 100th anniversary. "Worship the Lord with gladness" A quartet of singers contributed to the solemnity of the celebration, as well as an instrumental Ave Maria during the offertory.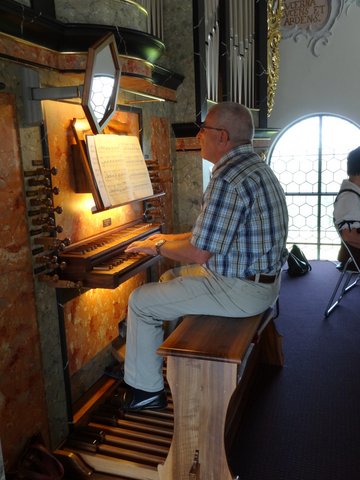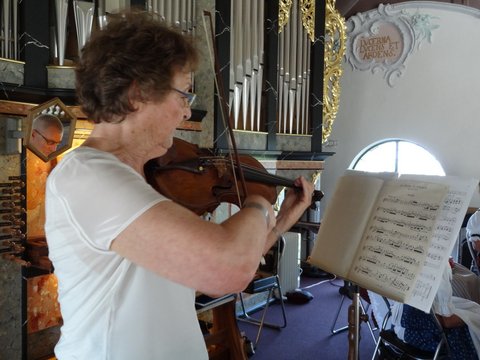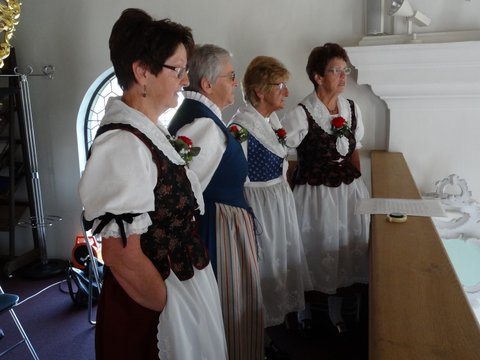 After the Eucharistic celebration Sr. Daniela Schumacher, Superior of the Bernhardzell community invited all to a festive banquet and program in the parish hall. Sr. Maria Lansbeger read aloud a message from Sr. Izabel and presented Sister Bernhilde with a beautiful Papal Blessing certificate.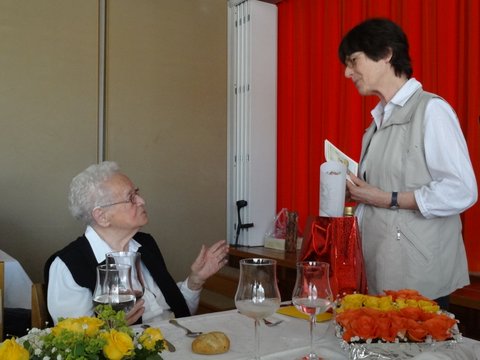 Humorous and cordial wishes were given to the honoree, who wittingly and delightfully received all of them. The mayor reminisced over Sr. Bernhilde´s arrival in 1944 with her few belongings in hand, and as he continued, a playful back and forth took place between them. Then the Mayor retorted "you see, what an excellent memory she has, she´s correcting me constantly!!" Another speciality was a video projection of photos from Sr. Bernhilde´s family and life history, tenderly commented on by her two nieces, as they thanked their "Aunt Sister" for her prayer accompaniment prayer each day.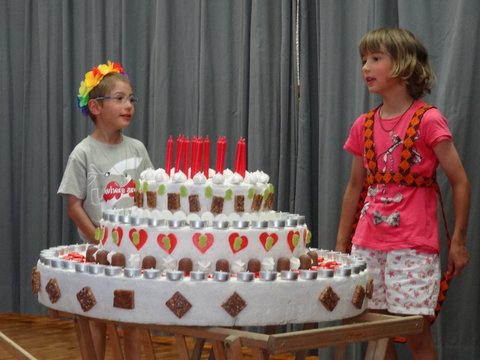 Another surprise came when four small children drew in a big decorated birthday cake on a handcart and sang a birthday serenade to their former nursery school teacher. Next a group of about 20 "kindergarteners", now in their seventies, came in, singing and felicitating their former teacher with gifts. Sr. Bernhilde, with shouts of surprise and joy found original words for each one of them. The four singers in smart dirndl dresses gave a performance of native songs and yodellers. A pan flute orchestra, with the participation of Sr. Daniela, offered a potpourri with popular songs and Sr. Bernhilde, making all chuckle, eagerly conducted the music.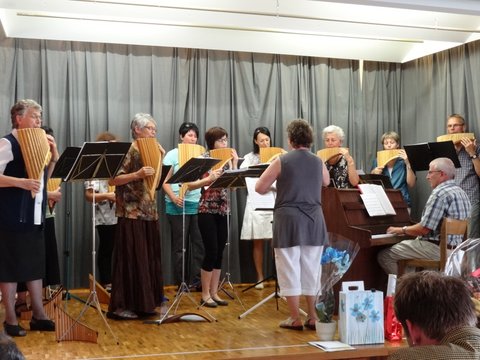 The Holy Mass, festive banquet, programs, the cheerful atmosphere, everything contributed to make this day a glorious feast in thanksgiving to God for the long, blessed life of Sr. Bernhilde, who still today radiates humour and enjoyment of life and togetherness. Let it also be known that her mind is a cache of knowledge and wisdom from which we can all benefit, whether in her native language or in others such as English. We her Sisters treasure her for her trust in God in all situations throughout these many years, and for her continued love and faithfulness.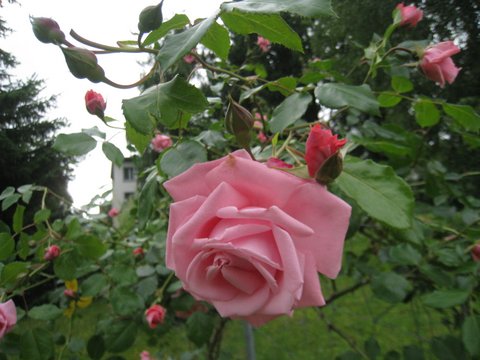 At the end of the Great Event, it may be said that Sr. Bernhilde was truly the Star of Day, as she spontaneous exhibited her brilliantly clear mind, her sincere heartfelt joy and love of her life as a Pallottine Sister. Ad multos annos.