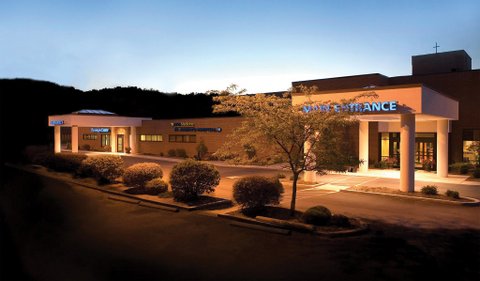 April 7, 2021 was a very special day for St. Joseph's Hospital in Buckhannon, WV. Our Bishop Mark E. Brennan came to celebrate a 100th Anniversary Liturgy at Holy Rosary Catholic Church. We could not invite too many guests because of social distancing, but there was a good mix of parishioners and St. Joseph's administration and employees.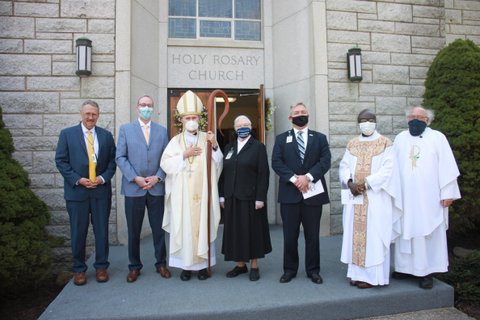 Among the invited guests were President and CEO of WVU Health System, Albert Wright, President and CEO of United Hospital Center, Michael Tillman. Our Parish Administrator, Fr. Edward Tetteh, SVD, concelebrated with Bishop Mark Brennan. Rev. Mr. Rue Thompson, Deacon, assisted at the altar. Sr. Francesca had chosen the readings of the day, Wednesday of the octave of Easter. The reading from Acts 3:1-10 seemed to be so fitting for the occasion.
"When he (the crippled man) saw Peter and John about to enter, he asked them for money. "Peter looked straight at him, as did John. Then Peter said, "Look at us!" 5So the man gave them his attention, expecting to get something from them. Then Peter said, "Silver or gold I do not have, but what I do have I give you. In the name of Jesus Christ of Nazareth, walk." Taking him by the right hand, he helped him up, and instantly the man's feet and ankles became strong. He jumped to his feet and began to walk. Then he went with them into the temple courts, walking and jumping, and praising God." Acts 3:3-8
This is exactly what the sisters and the staff of the hospital have done over the past 100 years. They had neither "silver nor gold" but they gave of themselves and through their work and example brought many to praise God. They have continued and will continue the healing ministry of Christ.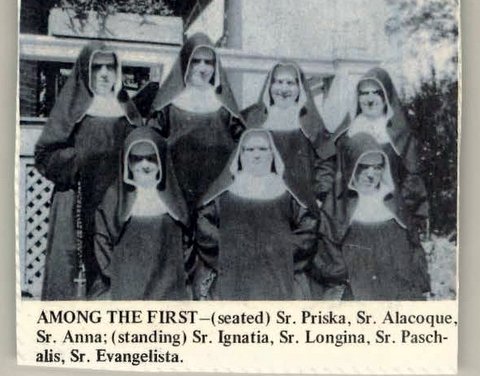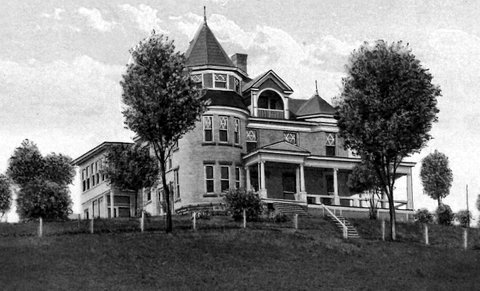 Hospital 1921
Before the final blessing Albert Wright and Skip Gjolberg, president and CEO of St. Joseph's Hospital, said a few words of congratulations and thanks to the Pallottine Missionary Sisters and the physicians and staff of St. Joseph's Hospital. Sr. Mary Grace Barile, SAC, Provincial, had an employee read a letter because she was unable to attend.
We closed the Liturgy with a heartfelt "Holy God, we praise thy name."
Sr. Francesca Lowis SAC